Expanding our Paw Print
It is the Wildcat Extension District's goal to continually "Expand our Paw Print." We can do this by working across disciplines to create high-impact programming for individuals, organizations, and local leaders across Crawford, Labette, Montgomery, and Wilson counties. Continue to check back to this page for more success stories and impact reports.
Wildcat Wednesday: KOAM-TV
Weather/Flooding Resources
Flood and natural disaster resources

(Prepare Kansas, Food Safety during disaster and power outage, Getting Financially Prepared, Restoring Flooded Home, etc.)
Prepare
Local Emergency Management Resources
Crawford County
https://www.crawfordcountykansas.org/emergency-management.html
https://www.facebook.com/crcoksem/
Labette County
https://www.labettecounty.com/department/index.php?structureid=3
Wilson County
https://www.facebook.com/WCEMKS/
Montgomery County
http://mgcountyks.org/county-depts/emergency-management
https://www.facebook.com/MCKYEMA/
---
Recover
Kansas Department of Agriculture- https://agriculture.ks.gov/news-events/nebraska-flooding-disaster-recovery-resources
Disaster Relief and Emergency Assistance- https://www.hud.gov/states/kansas/library/disasterrelief
Floods And Your Farm- http://www.prep4agthreats.org/Natural-Disasters/floods-and-farm
Family Crisis- https://cropwatch.unl.edu/2019/coping-stress-during-crisis
Stored Grain- https://www.extension.iastate.edu/sites/www.extension.iastate.edu/files/files/flooding%20and%20stored%20grain.pdf
Food Safety After A Flood- https://www.bookstore.ksre.ksu.edu/pubs/MF3199.pdf
Please contact Barbara Anderson with the Kansas Department of Commerce (KDOC) if you have damage to any city or county municipal buildings, water or sewer treatment facilities. Barbara's contact information is (620) 717-5713 or Barbara.Anderson@ks.gov.
In the same manner, please contact Craig VanWey with KDOC if you have any manufacturing or industry damage. Craig's contact information is (785) 633-8407 or Craig.VanWey@ks.gov.
Prepare Yourself for Severe Weather Article Audio
Would you be prepared to take action if your property was hit by a tornado, overcome by a flood or destroyed by a fire? Many people have installed smoke detectors, fire alarms, and dead bolt locks in their homes and stocked extra food in the pantry but there is more to preparing. To be prepared, you should also have a household inventory, check your insurance coverage, and prepare a grab-and-go box. Read on to learn more.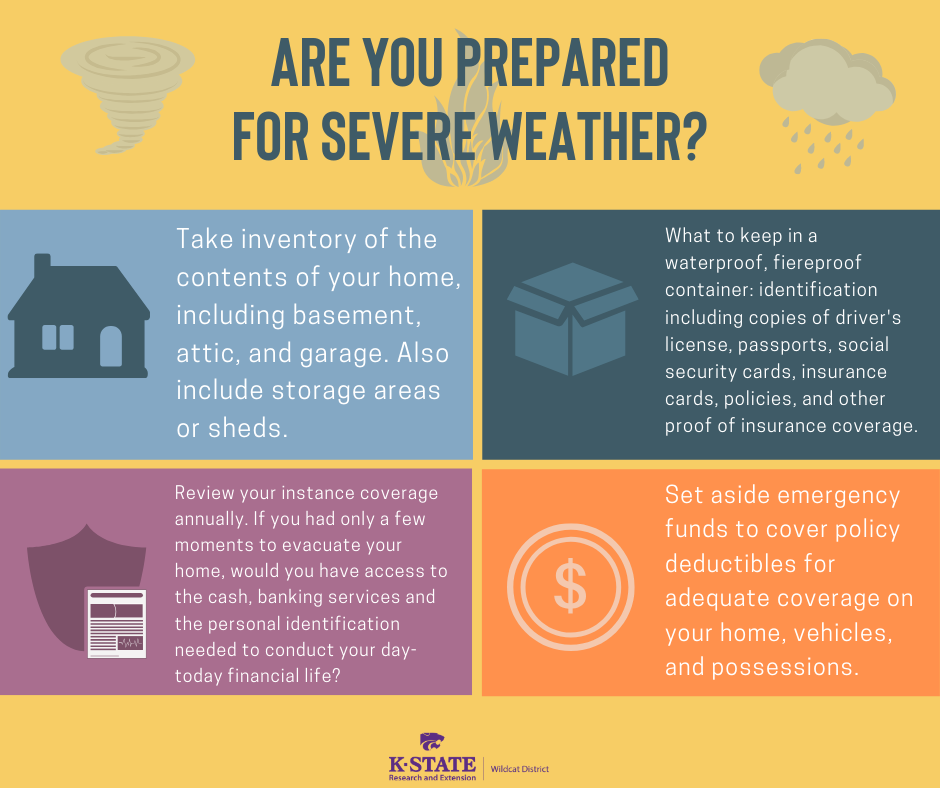 ---
News Release
Newsletters
Wildcat Connection
July 2019 - Vol. 4, Issue 1 - https://joom.ag/Nnae