Welcome!
We provide relevant, reliable information related to Agriculture, Family and Consumer Sciences, Horticulture, 4-H and Youth Development, EFNEP (Expanded Food and Nutrition Education Program) Family Life, Healthy Living, and much more. We assist individuals, businesses, and communities in their efforts to find solutions, develop their knowledge-base, and better themselves as a whole.
We are dedicated to a safe, sustainable, competitive food and fiber system and to strong, healthy communities, families and youth through integrated research, analysis and education.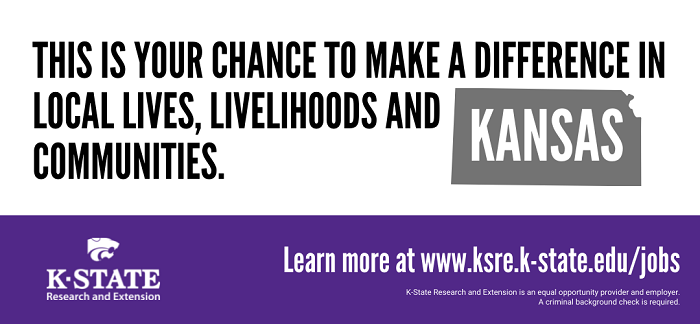 Position Openings
Student SNAP-Ed Nutrition Assistant (Part-time)
Wildcat Extension District is currently seeking a part-time Student Nutrition Assistant. This position will serve Crawford County, KS as a member of the Wildcat District, which has offices in Altamont, Fredonia, Girard, Independence, and Pittsburg. The primary office location will be in Pittsburg, KS. Regular travel to various sites within Crawford County is required.This position reports to the Wildcat District EFNEP-SNAP-Ed Extension Agent.
Job Decription and Application
______________________________________________________
4-H Youth Development Educators/ Summer Interns
4-H Youth Development within K-State Research & Extension (KSRE) is seeking multiple Educators/ Summer Interns to provide high quality local and regional 4-H programming to Kansas youth.

Application Deadline is December 16th.
Job Decription and Application
Green Side Up
Green Side Up - Tune in every Wednesday to KGGF 690 AM at 7:40 and 8:10 a.m. to hear from our Wildcat District agents and/or call in with your question! Our agents discuss programs and timely topics with a different topic each week.