Welcome!
We provide relevant, reliable information related to Agriculture, Family and Consumer Sciences, Horticulture, 4-H and Youth Development, EFNEP (Expanded Food and Nutrition Education Program) Family Life, Healthy Living, and much more. We assist individuals, businesses, and communities in their efforts to find solutions, develop their knowledge-base, and better themselves as a whole.
We are dedicated to a safe, sustainable, competitive food and fiber system and to strong, healthy communities, families and youth through integrated research, analysis and education.
---
Position Openings
EXTENSION NUTRITIONAL ASSISTANT
Opportunity in the WILDCAT DISTRICT. Primary office located in PITTSBURG, KS, with other offices in Altamont, Fredonia, Girard and Independence, KS. For responsibilities, qualifications, and application procedure see:
Application deadline: Open Until Filled

K-State Research and Extension is an EOE of individuals with disabilities and protected veterans. Background check required.



News
KHF Awards Grant to Build Healthier Communities
Wildcat District, was awarded $24,332 by Kansas Health Foundation (impact grant) to begin stirring up a health movement among the surrounding area. With help from KHF grant, a collaborative initiative co-convened by SHIFT (Shaping Health, Improving Fitness Together)/GROW Labette County and Live Healthy Montgomery County are building capacity and will organize community conversations on public health issues. This initiative is complementary to other health-related projects/programs occurring in both counties and has a communication focus that will support listening sessions in multiple communities, a sharing of testimony and documentation from those conversations, and ultimately, collaboration across projects to improve health outcomes for our populations.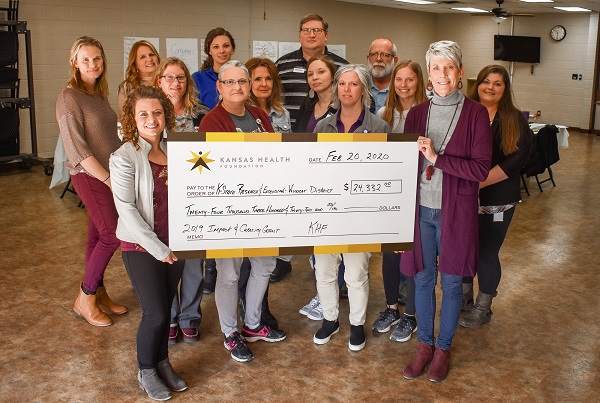 Wildcat District Agents Become CPR Certified
We are so grateful to Sharolyn Jackson and Sandy Proctor for giving their time to provide CPR/AED Training for our Wildcat District staff! CPR is a skill that is incredibly important to have, but hope you never have to use. Some staff members are being trained for the first time, the first time in a long time, or wanting to brush up their skills after their certification has expired.