Upcoming Dates

4-H Newsletters
2023 July Newsletter
2023 June Newsletter
4-H Club Days
Labette County 4-H Days will be held Saturday, Febuary 11, 2023 @ 8 a.m. at the Labette County High School
Club Day Sign up here: Deadline to sign up is January 28th
3 options
Online form
Printable form
Email form

Guidlines for 4-H Club Day

Regional Club Day is Saturday, March 4, 2023 @Neosho County Community College in Chanute, KS.
4-H Club Day Resources
Project Talks
Demonstrations
Illustrated Talks
Demonstrations / Illustrated Talks Outline form
Public Speaking
Effective Presentation Tips
Preparing & Using Visual Aids
4-H at your Fingertips
Download the Wildcat District 4-H on the Go App now!
4-H CAMPS
CAMP REGISTRATION FOR ALL CAMPS GOES LIVE MONDAY, MARCH 15TH AT 6 AM
Discovery 4-H Days- typically June 1-3 in Manhattan KS for youth 14-18.
Rock Springs 4-H camp - Registration is open NOW! Early Bird registrations deadline is November 1. Rock Springs camp is for youth ages 8-18. Youth pick their date in June. 4 day or six day camp. (old camp model was the 4 day camp). Prices range and scholarships are avaialable. Camp Q&A
Greenbush 4-H Camp- 24 hour overnight camp at Greenbush by Girard, KS for youth 7-8 yrs old. Stay in A/C cabins, high low ropes course, canoeing, fishing, archery, games, etc. Camp is June 6-7th! Estimated cost $75
Camper Packet
Floating on Leadership - Teens 14-18 are invited to join us on a float trip at the river. Day trip. Float date is June 8th, with a backup date of June 22nd for rain. We don't go every year unless there is interest. Cost is estimated $40
Favorite Foods Contest
District wide Favorite Foods Show will be June 13th at the Old Iron Club in Fredonia. Contest begins at 4:00pm. Here you can find the Information Sheet, Score Card and Registration forms.
Horse
Horse Id Papers (printable)
Horse Id Papers (form fillable)


Youth for the Quality Care of Animals
Youth will learn about reading feed tags, giving shots, and more! Classes open to all youth as a learning opportunity regardless of where you plan to show!
YQCA Dates:
Montgomery April 25 at 6:45 pm Extension office
Labette April 21st at 6:45 p.m. Altamont City Park
Crawford April 12 6:30 Extension office
Wilson April 6 6:30 Extension office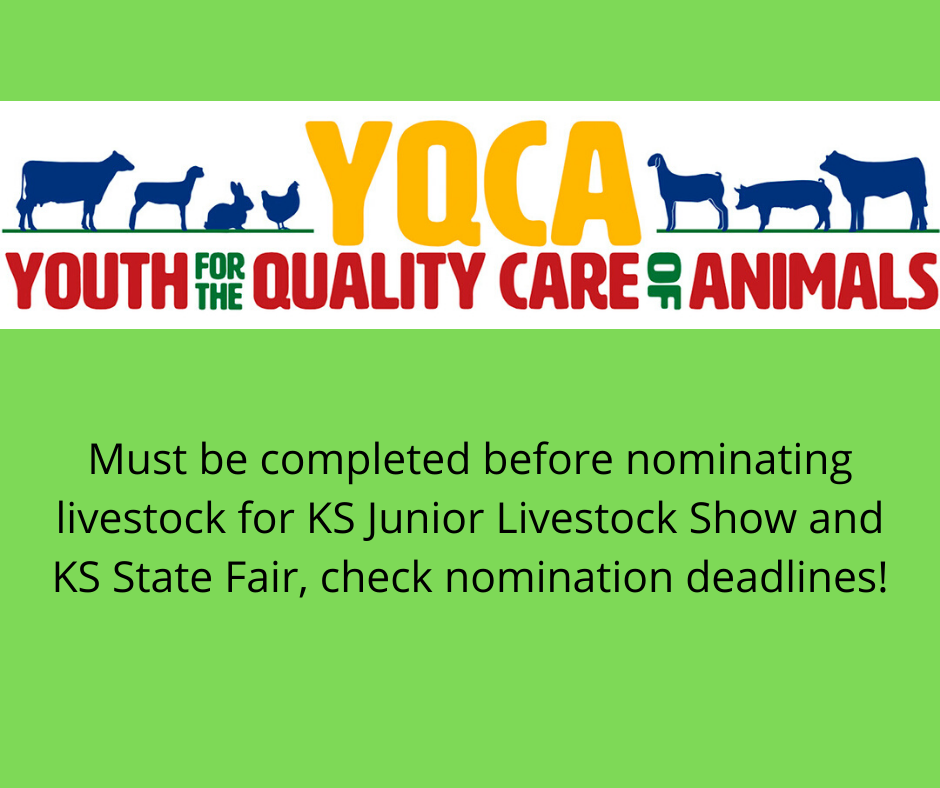 YQCA training is required for youth (ages 7-21) who will be showing livestock at the Kansas State Fair or the Kansas Junior Livestock Show. The YQCA website is,https://yqcaprogram.org/ . Use your 4-H Online user name and password to login. Instructions for signing up for classes and printing completed certificate: click here.
Following the training, please log back in to take a post-course survey and access your certificate!
Livestock Information
State Livestock Nomination Information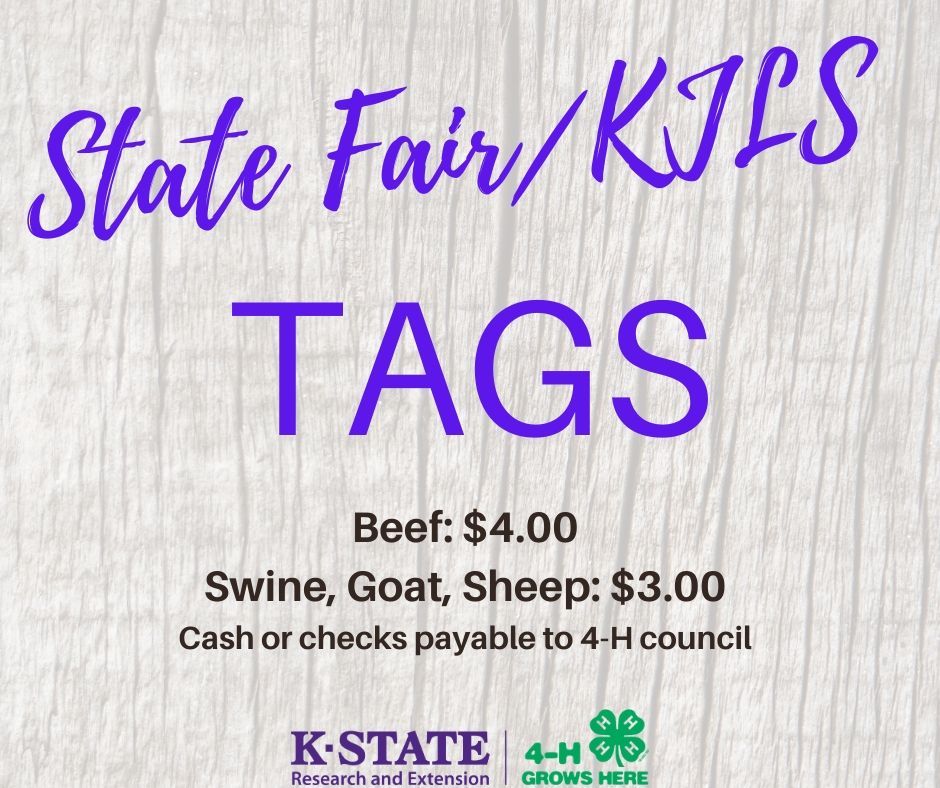 Contact the Extension Office 620-784-5337 or clance@ksu.edu.to make arrangements to get tags!

Nomination deadlines:
Market Steers and Market Heifers: May 1st
Commercial Heifers: June 15
Registered Breeding heifers: N/A
Market Lambs and Commercial Ewes: June 15
Registered Breeding Ewes: N/A
Market Hogs: June 15
Purebred Breeding Gilts: N/A
Commercial Breeding Gilts: June 15
ALL Meat Goats: June 15
(no registered breeding doe show)

Tagging instructions, checklists, declaration and nomination paperwork will be printed for you and delivered with your tags or you can print it yourself at: https://www.asi.k-state.edu/research-and-extension/youth-programs/nominated-livestock/
4-H Handbook:
Labette County 4-H member handbook
General:
If you are not receiving emails from the Extension Office please contact us 620-784-5337.