Upcoming Dates
4-H Newsletters
March 2021 District Newsletter
January 2021 District Newsletter
October 2020 District Newsletter
4-H at your Fingertips
Download the Wildcat District 4-H on the Go App now!
Favorite Foods Contest
District wide Favorite Foods Show will be June 7th at the Old Iron Club in Fredonia. Contest begins at 4:00pm. Here you can find the Information Sheet, Score Card and Registration forms.
Upcoming Dates
Horse
Horse Id Papers (printable)
Horse Id Papers (form fillable)
District Horse Show Entry Form CANCELLED- Parsons State Hospital Arena - July 1, 2020
4-H CAMPS
CAMP REGISTRATION FOR ALL CAMPS GOES LIVE MONDAY, MARCH 15TH AT 6 AM
Cedar Bluff - Local camp for ages 9-13. Camp scholarships are offered. Must give a talk or demonstration at club days. More details coming

Greenbush 4-H Camp - June 8-9, 2021 this camp is for 7-8 year olds. It is a 24 hour camp, youth spend the night and are picked up the next morning. Activities include: canoeing, archery, fishing, low ropes course, astronomy, stem activities, smores, etc. Cost is estimated at $75 and $45 camp scholarships are offered (must give a talk or demonstration at club days).
Register for Greenbush, email or drop off form
Medication Card - fill out and bring to camp

Rock Spring 4-H Camp, Sunny Hills group - June 15-18, 2021 for 3rd grade complete through 7th grade complete. Transportation provided. Activities include swimming, horse back riding, shooting sports, stream studies, robotics, rock climbing, mountain bikes, etc. Cost estimated at $225 but camp scholarships are offered ($100, call office for details). Camp Counselors 16-18 attend camp for free but must attending training on June 14th!
Floating On Leadership - June 11th, 2021 (rain date, June 25)
This day trip is for 14-18 year olds. A float trip on the river focused on team building, leadership and connecting youth throughout the district. Estimated cost $30.
4-H Campference - Registration is due May 15! Space is limited and will be filled on a first come first serve basis, so registration may end prior to May 15 if space is filled. Fee is $320 per person. Transportation is the responsibility fo the attendee
Why Come to 4-H Campference, June 27-30, 2021:
• Make friends who will last a lifetime from across Kansas.
• Enjoy Rock Springs 4-H Center.
• Discover new skills and learn how to apply them at home.
• Discover opportunities that 4-H offers you.
• Expand your leadership capabilities.
For more information, visit your local Extension Office or www.kansas4-H.org
Discovery Days We invite youth, ages 13 – 18 BEFORE January 1, 2021 to register for Kansas 4-H Discovery Days.
This virtual event will take place from June 1 - 4th and cost is $35.
Discovery Days is a College and Career Readiness opportunity for youth. Sessions are organized into Content Related tracks, so youth can learn a bit more about potential future career options. This happens through educational sessions from content and youth development experts. Youth can learn new ideas, techniques, and skills they can use personally and in their 4-H clubs or groups and communities.
To learn more about the event including the Tracks being offered, click here.
WILDCAT 4-H LIVESTOCK JUDGING CAMPS
June 10th- Beginners camp for all ages. 1/2 day.
June 21st-Advanced camp 8 a.m. to 8 p.m.

Contact Livestock Judging coach Cara Comstock at 620-784-5337 or cjcomstock@ksu.edu for more information
Youth for the Quality Care of Animals
Youth will learn about reading feed tags, giving shots, and more! Classes open to all youth as a learning opportunity regardless of where you plan to show!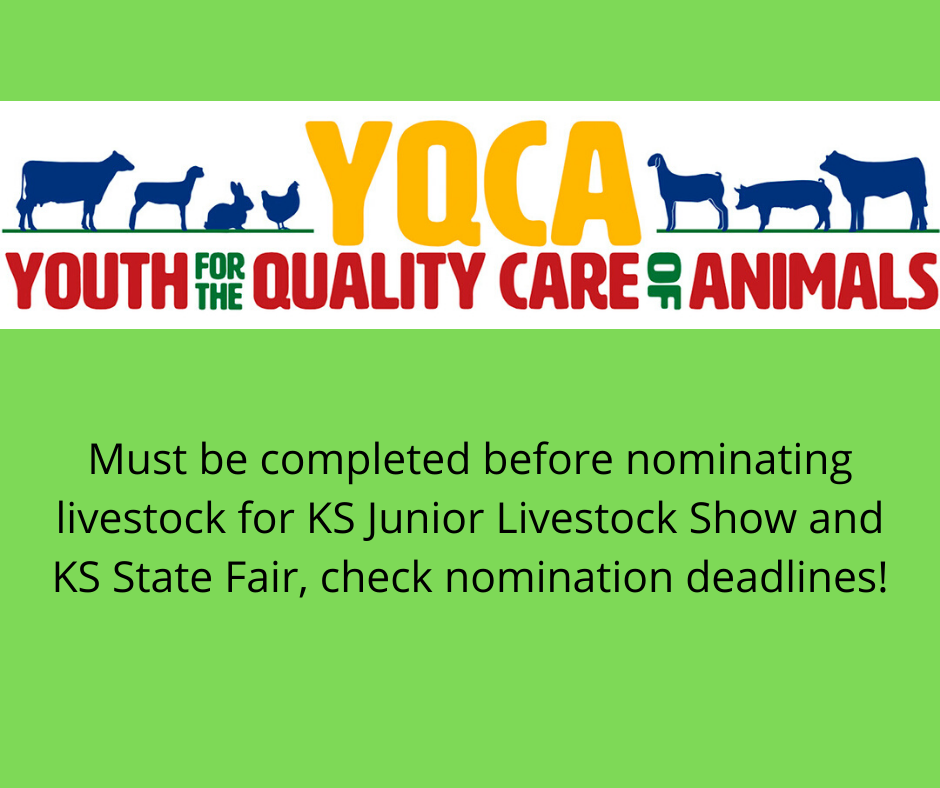 Instructions for signing up for classes and printing completed certificate: click here.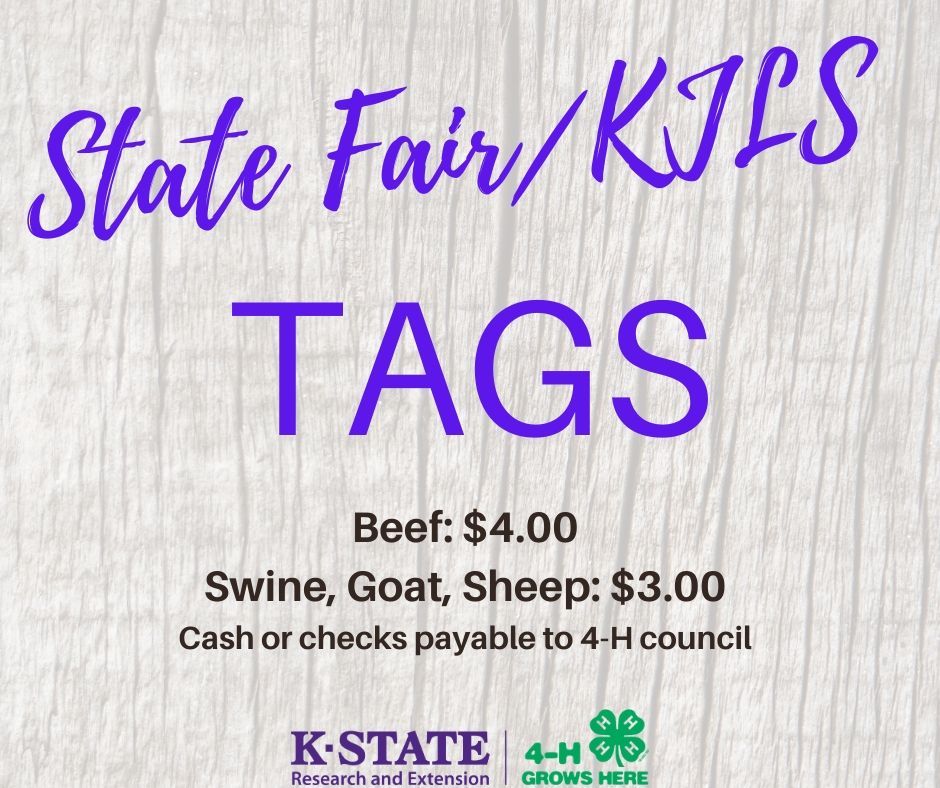 Contact the Extension Office 620-784-5337 or cjcomstock@ksu.edu to make arrangements to get tags!

Nomination deadlines:
Market Steers and Market Heifers: May 1st
Commercial Heifers: June 15
Registered Breeding heifers: N/A
Market Lambs and Commercial Ewes: June 15
Registered Breeding Ewes: N/A
Market Hogs: June 15
Purebred Breeding Gilts: N/A
Commercial Breeding Gilts: June 15
ALL Meat Goats: June 15
(no registered breeding doe show)

Tagging instructions, checklists, declaration and nomination paperwork will be printed for you and delivered with your tags or you can print it yourself at: https://www.asi.k-state.edu/research-and-extension/youth-programs/nominated-livestock/
4-H Handbook:
Labette County 4-H member handbook
General:
If you are not receiving emails from the Extension Office please contact us 620-784-5337.