Upcoming Dates
All in-person extension and 4-H meetings have been postponed until May 16th.
To view the Wildcat District 2020 4-H Calendar click HERE. For a list for all county and district wide events click HERE.
2020 Enrollment
Enrollment for 2020 will open October 1, 2019. If you were enrolled in 4-H in Montgomery County by January 31, 2020 you need to enroll as a returning family! If you forgot your password there is a 'Forgot password' option. www.ks.4honline.com

Enrollment Guide for New Families - Enrollment deadline for new families is May 1, 2020
Re-enrollment Guide for Returning Families Enrollment deadline for returning families is January 31, 2020.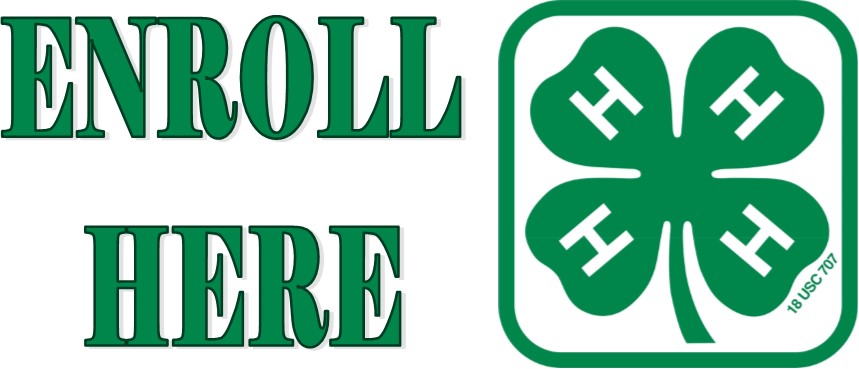 Club Days
See rules, guidelines, scorecards, and participation options here: Regional/County Guidelines

Qualifiers from the county club day will be contacted about attending Regional 4-H Day - March 7, 2020 at Neosho Community College, in Chanute, KS. Doors open at 8:00 a.m. first to sign up on door first to go (like county). No awards ceremony. Youth may wait until their room is completed in the afternoon to get their ribbons or the agent will bring them back.
Youth for the Quality Care of Animals
Youth will learn about reading feed tags, giving shots, and more! Classes open to all youth as a learning opportunity regardless of where you plan to show!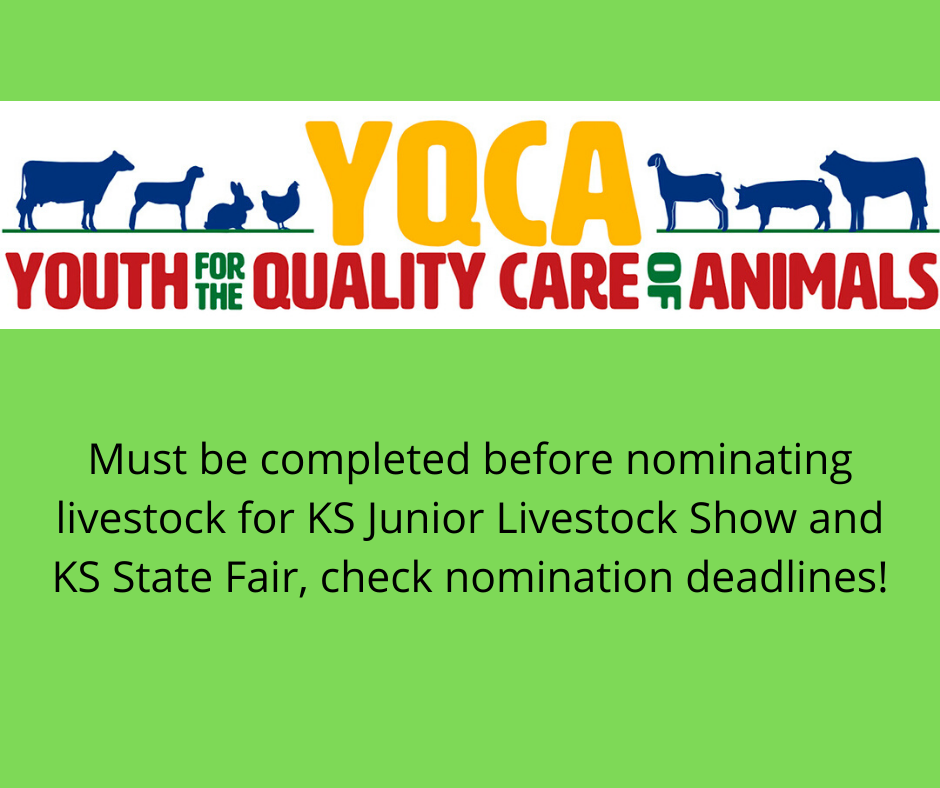 YQCA training is required for youth (ages 8-21) who will be showing livestock at the Kansas State Fair or the Kansas Junior Livestock Show (one exception is horses. Horse members are required to do the Coggins test and horsemanship tests). In-person classes have been cancelled and you can login to YQCA to get a refund for in person classes. Youth will need to sign up for an online class. Online classes are typically $12 but will be discounted to $9 for April only. To recieve the discount you must apply for a coupon. Contact your extension agent to be put on their list for fill out the form below yourself and mail it in. The YQCA website is, https://yqca.learngrow.io. Use your 4-H Online user name and password to login. Classes are specifically for youth 8-21 years old but in 2020, seven year olds may take the class as a learning opportunity. In 2021, the class ages will change from 8-21 to 7-21, as seven year olds competing in the Kansas Junior Livestock show be required to take the class.


Discount coupon options: 1. Contact local agent to be put on their list (check must be dropped off with agent)
2. Fill out the form HERE and mail it in with check for coupon.
Instructions for signing up for classes and printing completed certificate: click here.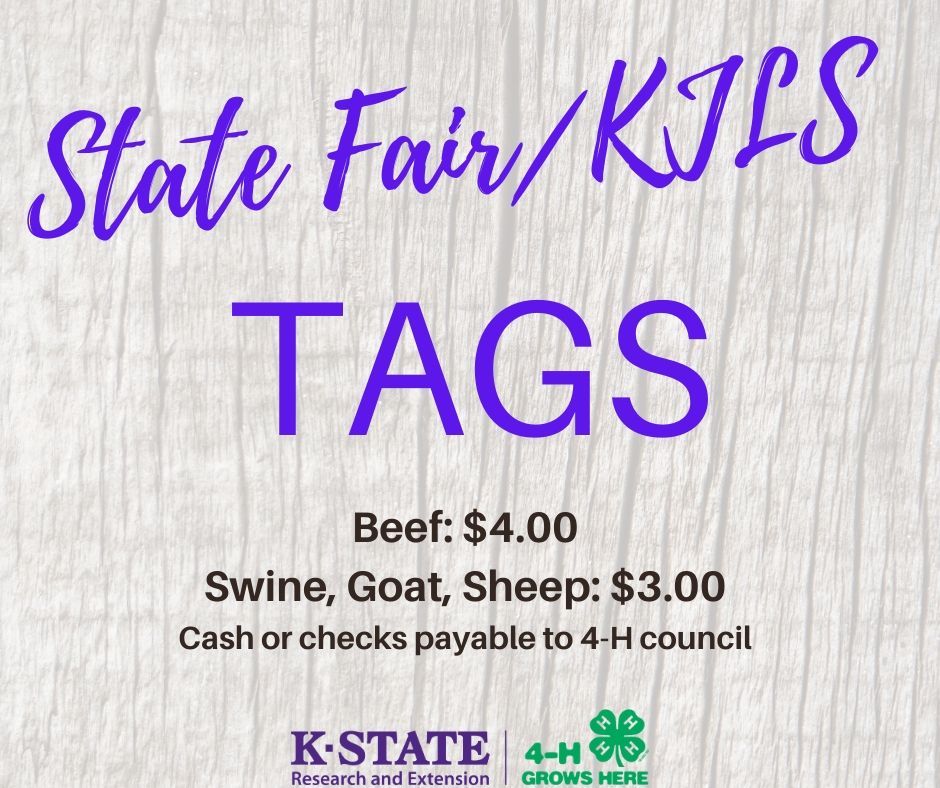 Contact Katie at krohling@ksu.edu or 620-778-4616 to make arrangements to get tags!

Nomination deadlines:
Market Steers and Market Heifers: May 1st
Commercial Heifers: June 15
Registered Breeding heifers: N/A
Market Lambs and Commercial Ewes: June 15
Registered Breeding Ewes: N/A
Market Hogs: June 15
Purebred Breeding Gilts: N/A
Commercial Breeding Gilts: June 15
ALL Meat Goats: June 15
(no registered breeding doe show)

Tagging instructions, checklists, declaration and nomination paperwork will be printed for you and delivered with your tags or you can print it yourself at: https://www.asi.k-state.edu/research-and-extension/youth-programs/nominated-livestock/
4-H CAMPS
Sunny Hills 4-H Camp @ Rock Springs 4-H Center will be June 7-10. Counselors will go up on June 6th. Counselors go for free and it is a great leadership opportunity! Counselors should be 16 and older to apply!
Sunny Hills Camp Registration
Counselor Application (Word and PDF fillable)
Greenbush 4-H Camp @ Greenbush Education Service Center will be June 22-23. Camp is for youth aged 7-8 as of January 1 (4-H age).
Camper Packet - (form fillable can be emailed to agent or printed and filled out)
Camper medication form (One per youth, bring to camp)
4-H Discovery Days Registration is now open
The 2020 Kansas 4-H Discovery Days registration is now open. The statement below has been added to the registration to establish clear expectations for those registering. We are very hopeful the event will occur as planned but also want to recognize the possibility that factors out of our control could prevent the occurrence.
"In this time of uncertainty, we have opened the Kansas 4-H Discovery Days registration with the understanding that at any point we may need to cancel this event. We will close registration and post information if and when that may be deemed necessary. If we cancel the event, refunds will be processed. Thank you for understanding."
Direct link to registration: http://www.cvent.com/d/ynqxqq
Kansas 4-H Event Registration page: https://www.kansas4-h.org/events/index.html
Montgomery County 4-H Fair Information
Fairgrounds are located at Riverside Park in Independence, KS. Google map pinpoint of the main 4-H building can be found HERE

LINK to FAIR INFORMATION - including fair entry video