Upcoming Dates
May 13 4-H Council 7 p.m. @ Extension office
May 18 Fair Entry Opens
May 31 Extension Office Closed
June 7 Favorite Foods Contest Fredonia @ 4-6:30 p.m.
June 8-9 Greenbush 4-H Camp
June 11 Floating on Leadership 4-H camp
June 14 Sunny Hills Camp Counselors leave for Rock Springs
June 15-18 Sunny Hills 4-H Camp – Rock Springs 4-H Center
June 15 District Horse Show entries due to office or postmarked
June 15 KS State Fair & KS Junior Livestock Show nomination deadline
June 17 4-H County Horse Show @ Pippin Arena 7 p.m.
June 22 Area hort., photography,& favorite foods judging Emporia
June 23-24 Cedar Bluff 4-H Camp ages 9-13
June 24 Poultry Testing at Riverside Park 4:30-6:30 p.m. FREE
June 25 Wildcat Beginner Livestock Judging Camp ½ day
June 28 Wildcat Advanced Livestock Judging Camp Full Day
June 28-30 Kitchen Kids (Independence)
July 1 Area livestock, skill-a-thon, and meats judging Yates Center
July 1 County Fair ANIMAL ENTIRES DUE (fair entry)
July 5 Extension office closed
July 7-10 Cherryvale Youth Fair
July 13 Clothing judging for fair @ Independence High School
July 14-16 Kitchen Kids (Cherryvale)
July 20 Style Revue, King & Queen Coordination, Dance 7 p.m.
July 21-26 100th Montgomery County 4-H Fair
July 24 Food Bake Sale 6 p.m. @ Fair
July 26 Livestock Sale 7:00 p.m. @ Fair
List of dates for entire year for all county and district wide events click HERE.
Montgomery County 4-H Fair Information
Fairgrounds are located at Riverside Park in Independence, KS. Google map pinpoint of the main 4-H building can be found HERE

LINK to FAIR WEBSITE- including fair entry video, study materials, fair forms, camping and more!
Favorite Foods Contest
District wide Favorite Foods Show will be June 7th at the Old Iron Club in Fredonia. Contest begins at 4:00pm. Here you can find the Information Sheet, Score Card and Registration forms.
4-H CAMPS
Registered for camp? All particpants will recieve a packet in the mail mid-May with more details and payment information!
Cedar Bluff - Local camp for ages 9-13. It is a 24 hour camp, youth spend the night and are picked up the next morning. Outdoor games, savenger hunts, rocket building, coding, swimming, campfire, dance and more. $55 or $10 for those that gave a talk/demo at club days. Adult helpers, teenage counselors and campers register at this link: https://kstate.qualtrics.com/jfe/form/SV_8D5Hs4DzTy2GXSS
Greenbush 4-H Camp - June 8-9, 2021 this camp is for 7-8 year olds. It is a 24 hour camp, youth spend the night and are picked up the next morning. Activities include: canoeing, archery, fishing, low ropes course, astronomy, stem activities, smores, etc. Cost is estimated at $75 and $45 camp scholarships are offered (must give a talk or demonstration at club days).
Register for Greenbush, email or drop off form
Medication Card - fill out and bring to camp


4-H Campference
Registration is due May 15! Space is limited and will be filled on a first come first serve basis, so registration may end prior to May 15 if space is filled. Fee is $320 per person. Transportation is the attendees responsibility.
Why Come to 4-H Campference, June 27-30, 2021:
• Make friends who will last a lifetime from across Kansas.
• Enjoy Rock Springs 4-H Center.
• Discover new skills and learn how to apply them at home.
• Discover opportunities that 4-H offers you.
• Expand your leadership capabilities.
For more information, visit your local Extension Office or www.kansas4-H.org
WILDCAT 4-H LIVESTOCK JUDGING CAMPS
June 10th- Beginners camp for all ages. 1/2 day.
June 21st -Advanced camp 8 a.m. to 8 p.m.

Contact Livestock Judging coach Cara Comstock at 620-784-5337 or cjcomstock@ksu.edu for more information
Youth for the Quality Care of Animals
Youth will learn about reading feed tags, giving shots, and more! Classes open to all youth as a learning opportunity regardless of where you plan to show!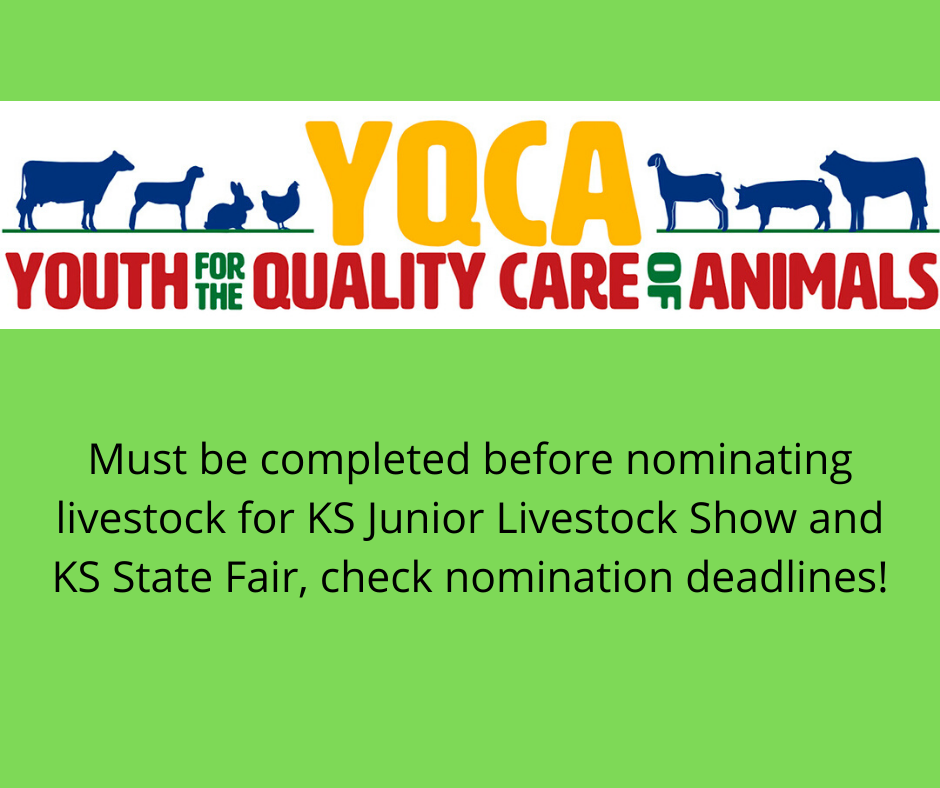 YQCA training is required for youth (ages 7-21) who will be showing livestock at the Kansas State Fair or the Kansas Junior Livestock Show. The YQCA website is, https://yqca.learngrow.io. Use your 4-H Online user name and password to login. Instructions for signing up for classes and printing completed certificate: click here.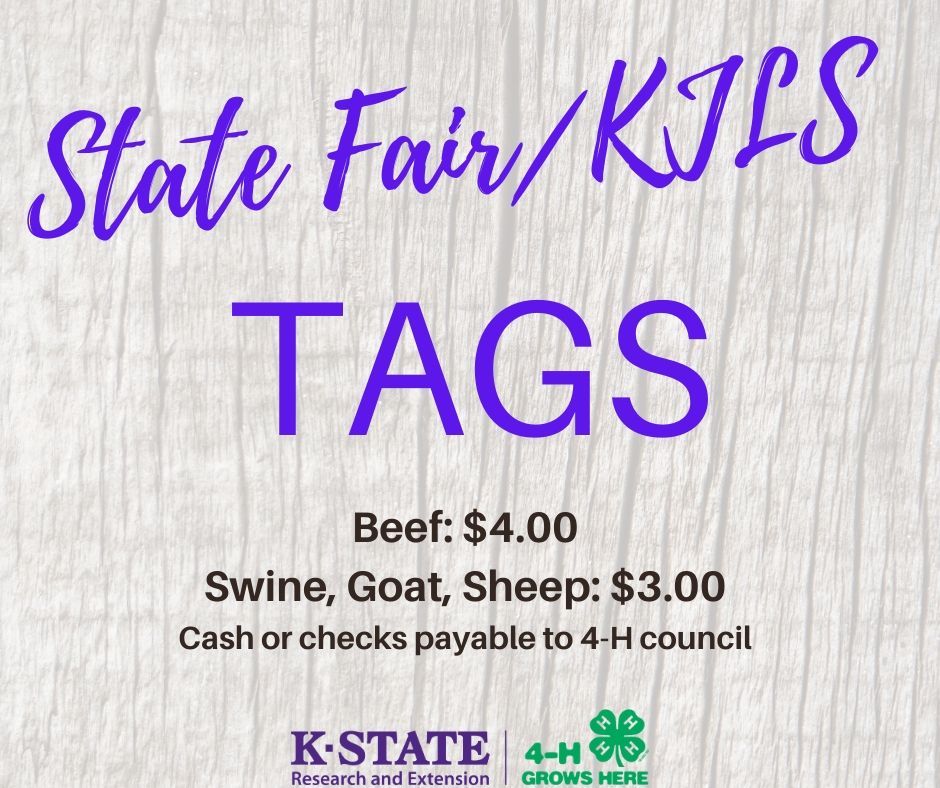 Contact Katie at krohling@ksu.edu or 620-778-4616 to make arrangements to get tags!

Nomination deadlines:
Market Steers and Market Heifers: May 1st
Commercial Heifers: June 15
Registered Breeding heifers: N/A
Market Lambs and Commercial Ewes: June 15
Registered Breeding Ewes: N/A
Market Hogs: June 15
Purebred Breeding Gilts: N/A
Commercial Breeding Gilts: June 15
ALL Meat Goats: June 15
(no registered breeding doe show)

Tagging instructions, checklists, declaration and nomination paperwork will be printed for you and delivered with your tags or you can print it yourself at: https://www.asi.k-state.edu/research-and-extension/youth-programs/nominated-livestock/
4-H at your Fingertips
Download the Wildcat District 4-H on the Go App now!
If your club needs to hold online meetings vs in-person for any reason we recommend Zoom and tips for setting up a zoom meeting safely are included in this tip sheet. A basic zoom account has a 40 minute time limit 4-H agents can help you set up the meeting with our K-State emails to bypass the time limit. Let us know how we can help you!
Instructions for creating a virtual zoom background and uploading to zoom
Clover virtual zoom background ready to use