Upcoming Dates
| | | |
| --- | --- | --- |
| February | 15-20 | Swine - Junior Producer Days - FREE virtual event, see below |
| February | 18 | Deadline to upload recorded club day presentations. See below |
| March | 1 | State 4-H Scholarship app. and Vanier Family Scholarship app due online |
| March | 6 | Regional Club Day for county qualifiers (Save this date regardless of virtual or in-person) |
| March | 15-20 | Meat Goat - Junior Producer Days - FREE virtual event, see below |
| April | 1 | Eyestone Scholarship due Extension Office |
| April | 7,14,21 | In-person YQCA trainings see more info below |
List of dates for entire year for all county and district wide events click HERE.
4-H at your Fingertips
Download the Wildcat District 4-H on the Go App now!
Sunny Hills Camp Counselor Application Click HERE
2021 Enrollment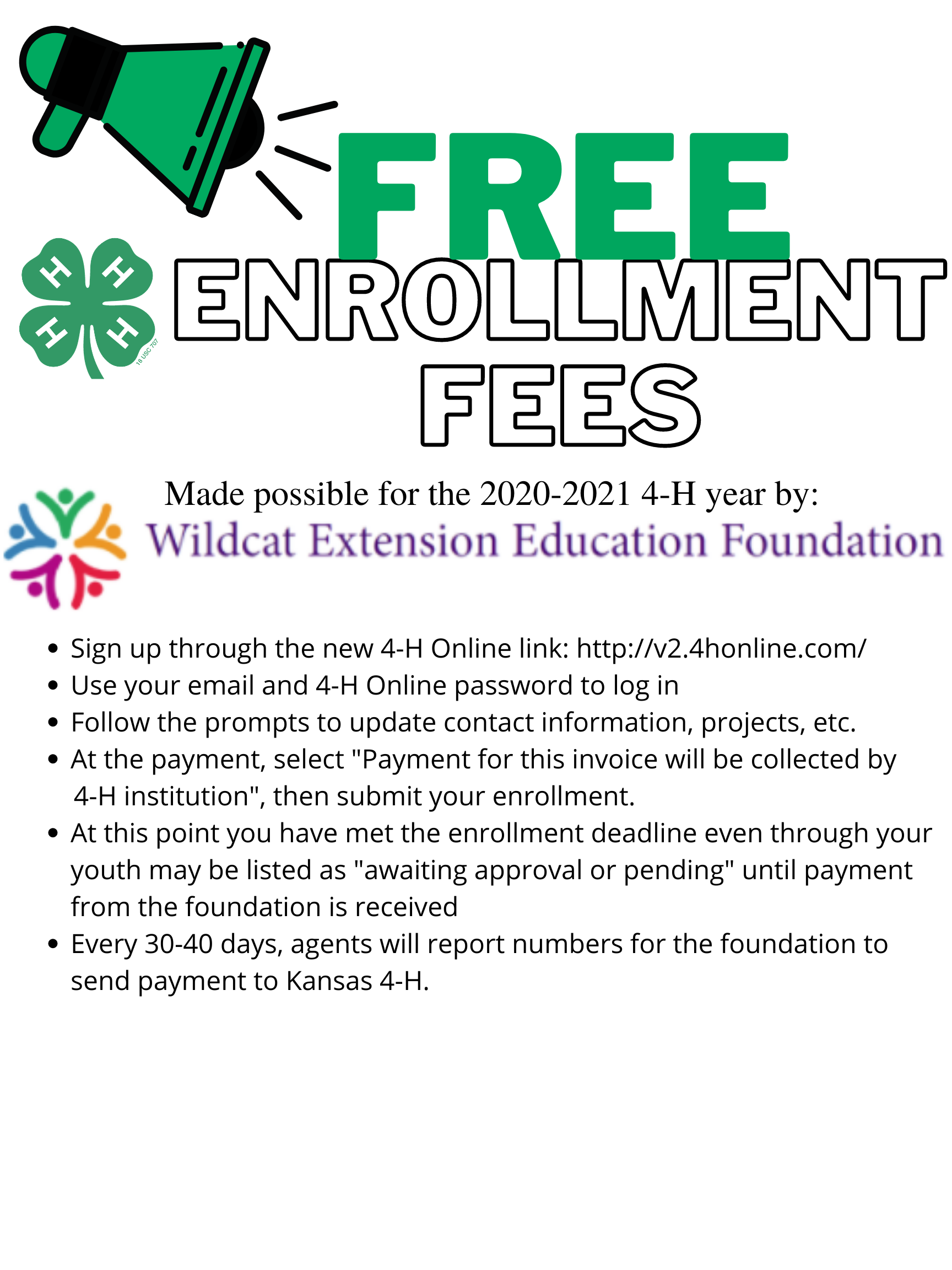 Enrollment Guide for New Families - Enrollment deadline for new families is May 1, 2021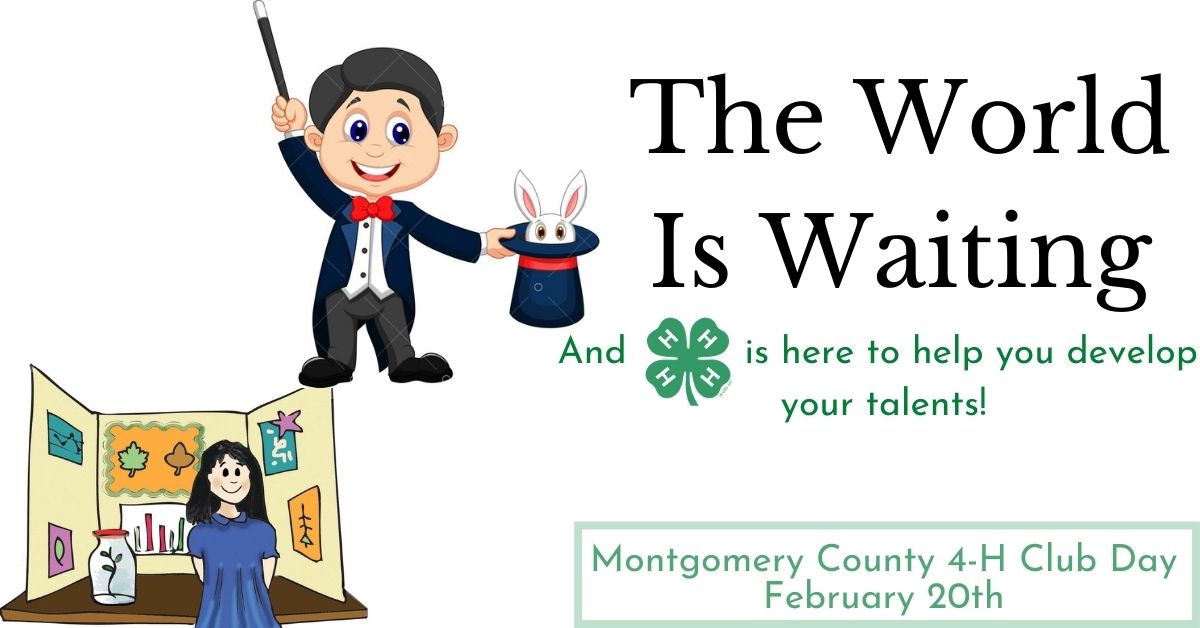 Montgomery County 4-H Club Day
Purpose: Through engagement in 4-H, youth learn to interpret verbal and nonverbal information, develop effective public speaking skills, enhance written and spoken communication, defend a point, design a presentation, and much more!
2021: County Club Day will be a virtual event. It is very important to the club day committee and 4-H staff that we return to in-person club day activities in 2022. The format below is temporary due to staffing limits and COVID.
Resources:
To see presentation options (dance, music, public speaking, etc.), rules, and scorecards refer to the guideline packet

2021, there will be NO model meetings or Extemporaneous contest
Local camp scholarships available to those who give talks and demonstrations

Kansas 4-H Presentation Overview – walks through the different types of presentations
Information Sheets for each presentation option
Entries:
Entries will open January 8, 2021 and remain open until February 18, 2021 at midnight.
Video Guidelines:
All entries must be pre-recorded as a video. Start each video with your division (Jr. Demonstration/Senior Talk/Group Dance, etc.), and title of your presentation. Videos should be recorded start to finish, with no breaks during the presentation. Film each video horizontally on a smart phone, tablet, video camera, or other appropriate device. Use a tripod or find a steady surface to film on. Capture the full body shot of the youth so the judge can properly evaluate body language, hand gestures, etc. that are essential parts of communication. Videos must not be edited after recording. Edited videos will be disqualified.
Participants should perform their entry as if they are presenting to a judge at his/her location (props should be displayed on a table, posters on display, PowerPoint projected, etc.). Do NOT screenshare your PowerPoint/presentation and voiceover it. We want to see your face, hand movements, etc. as you present. Participants can use live animals and outdoor filming environments, if appropriate for the contest area. However, you should pick an environment that is not windy or has lots of background noise. Judges can deduct points for extra noise/windy mics. No live shooting or loaded firearms allowed.
If your internet will not upload your video please come to the Extension office to use our internet or get help.
Judging:
Links to videos will be shared with each division judge. Judges will fill out a score card with feedback for each youth and email back to the Extension office. Judges will have from Feb. 19-22 to review your videos. Rest assured judges and the office will not share your video links with anyone else outside of the judging process.
Results:
Results will be released Feb. 23 by the end of the day. Results will be emailed out to families and those that qualify for regionals will be provided more information. At this time Regional Club Day will be March 6th and youth will give their presentations over a live zoom at a scheduled time.
Packet of events and guidelines
Information for Club Days in a downloadable PDF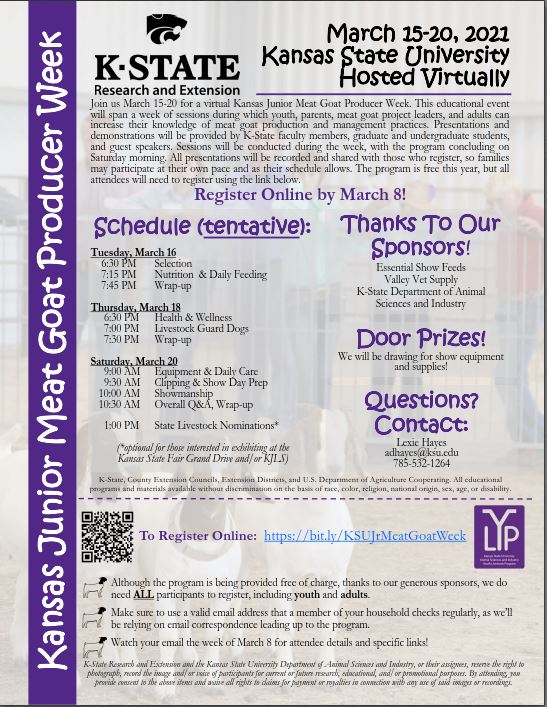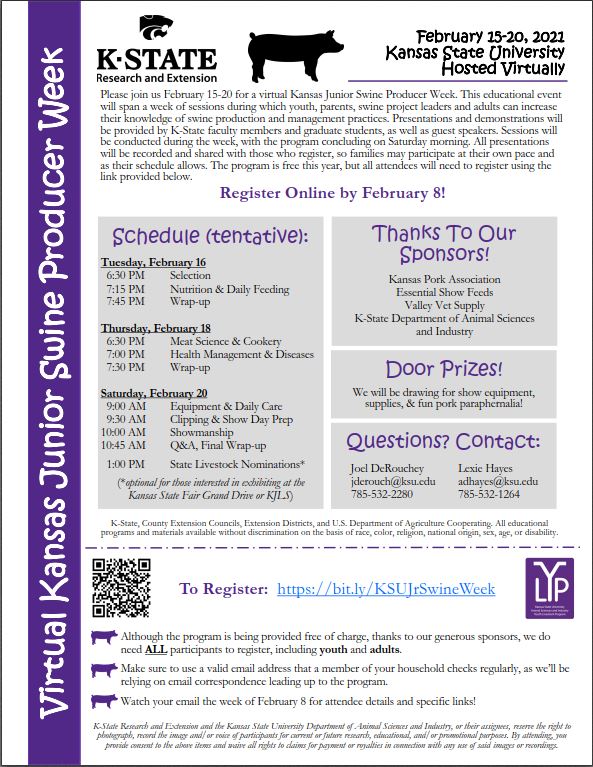 Montgomery County 4-H Fair Information
Fairgrounds are located at Riverside Park in Independence, KS. Google map pinpoint of the main 4-H building can be found HERE

LINK to FAIR WEBSITE- including fair entry video, study materials, fair forms, camping and more!
4-H CAMPS
CAMP REGISTRATION INFORMATION RELEASED MARCH 15TH
Cedar Bluff - Local camp for ages 9-13. Camp scholarships are offered. Must give a talk or demonstration at club days. More details coming

Greenbush 4-H Camp - June 8-9, 2021 this camp is for 7-8 year olds. It is a 24 hour camp, youth spend the night and are picked up the next morning. Activities include: canoeing, archery, fishing, low ropes course, astronomy, stem activities, smores, etc. Cost is estimated at $75 and camp scholarships are offered (must give a talk or demonstration at club days). More information coming.

Rock Springs 4-H Camp, Sunny Hills group - June 15-18, 2021 for 3rd grade complete through 8th grade complete. Transportation provided. Activities include swimming, horse back riding, shooting sports, stream studies, robotics, rock climbing, mountain bikes, etc. Cost estimated at $225 but camp scholarships are offered ($100, call office for details). Camp Counselors 16-18 attend camp for free but must attending training on June 14th! Counselors sign up by contacting Katie. Campers more information coming in March!
Floating On Leadership - June 11th, 2021 (rain date, June 25)
This day trip is for 14-18 year olds. A float trip on the river focused on team building, leadership and connecting youth throughout the district. Estimated cost $50.

WILDCAT 4-H LIVESTOCK JUDGING CAMPS
June 25 - Beginners camp for all ages. 1/2 day.
June 28 -Advanced camp 8 a.m. to 8 p.m.

Contact Livestock Judging coach Cara Comstock at 620-784-5337 or cjcomstock@ksu.edu for more information
Youth for the Quality Care of Animals
Youth will learn about reading feed tags, giving shots, and more! Classes open to all youth as a learning opportunity regardless of where you plan to show!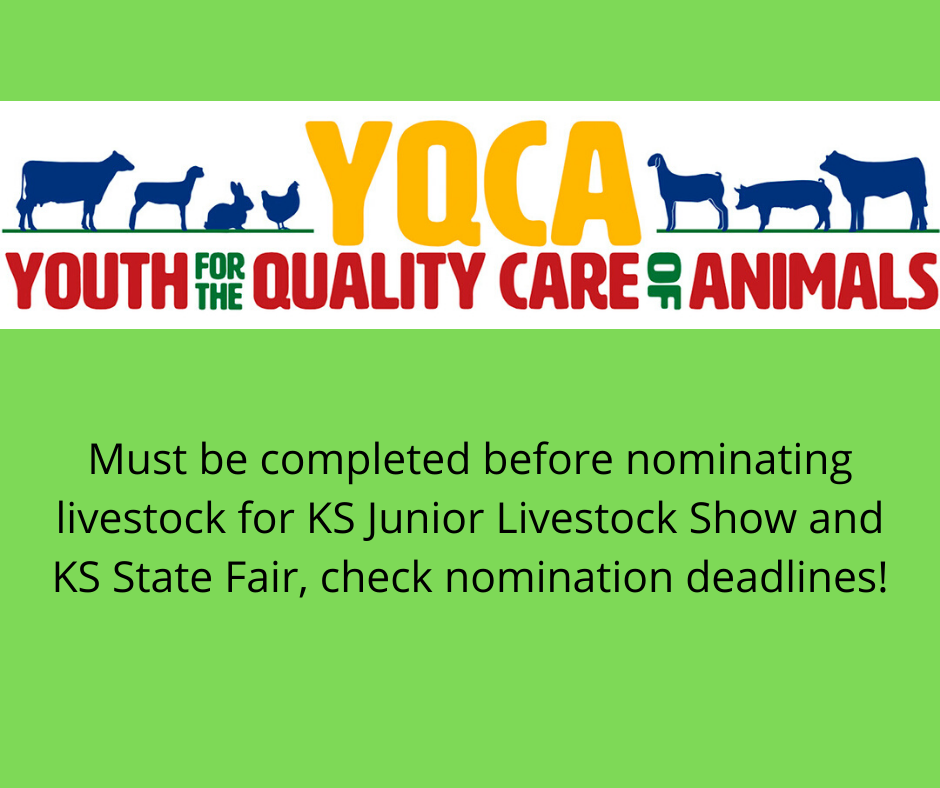 April 7 - Fredonia Extension Office 6:30 p.m.
April 14 - Montogmery County Extension Office 6:30 p.m.
April 21 - Labette County Extension Office
Sign up for any date using the links below
YQCA training is required for youth (ages 7-21) who will be showing livestock at the Kansas State Fair or the Kansas Junior Livestock Show (one exception is horses. Horse members are required to do the Coggins test and horsemanship tests). Youth will need to sign up for an online class, $12. The YQCA website is, https://yqca.learngrow.io. Use your 4-H Online user name and password to login. (2021 in-person classes listed above will not apprear in YQCA to sign-up for until March 1, 2021)

Instructions for signing up for classes and printing completed certificate: click here.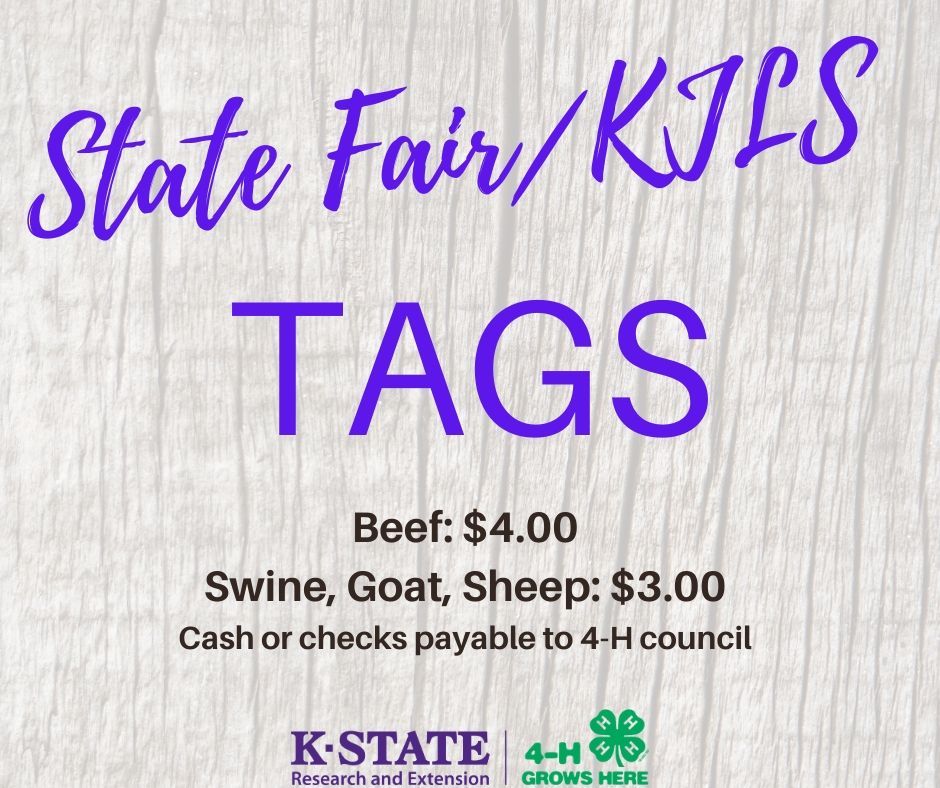 Contact Katie at krohling@ksu.edu or 620-778-4616 to make arrangements to get tags!

Nomination deadlines:
Market Steers and Market Heifers: May 1st
Commercial Heifers: June 15
Registered Breeding heifers: N/A
Market Lambs and Commercial Ewes: June 15
Registered Breeding Ewes: N/A
Market Hogs: June 15
Purebred Breeding Gilts: N/A
Commercial Breeding Gilts: June 15
ALL Meat Goats: June 15
(no registered breeding doe show)

Tagging instructions, checklists, declaration and nomination paperwork will be printed for you and delivered with your tags or you can print it yourself at: https://www.asi.k-state.edu/research-and-extension/youth-programs/nominated-livestock/
If your club needs to hold online meetings vs in-person for any reason we recommend Zoom and tips for setting up a zoom meeting safely are included in this tip sheet. A basic zoom account has a 40 minute time limit 4-H agents can help you set up the meeting with our K-State emails to bypass the time limit. Let us know how we can help you!
Instructions for creating a virtual zoom background and uploading to zoom
Clover virtual zoom background ready to use