Upcoming Dates
Montgomery County 4-H Club Day
CLUB DAY – January 21 @ Caney High School 8:30 a.m.
Enter through south doors
DOORS WILL NOT OPEN UNTIL 8:15 A.M.
All youth should be present by 10:30 a.m.
What is club day?
Club day is an opportunity for youth to show off the skills they've learned at their 4-H meetings plus a few extra (dance, music, talent, etc.)! Talks and/or demonstrations need to be prepared for club meeting talks (check your club program to see when you give yours) so why not give it at club days too! Public speaking is an essential skill and 4-H is a safe place to practice and hone skills. Ribbons are awarded and the top two winners (or one group) have the opportunity to represent Montgomery County at the regional contest March 4th in Chanute.
Why should I participate in club day?
If you don't do it for the practice with public speaking skills do it for the camp scholarship! Youth giving a talk or demonstration at club days will receive a $45 scholarship to a local camp from the Montgomery County 4-H Foundation Funds. Local camps honored are Cedar Bluff 4-H Camp in Coffeyville, Greenbush 4-H Camp in Greenbush (Girard), and Floating on Leadership (float trip for teens)
How do I sign up? And what are my options to sign up for?
Sign up: https://forms.gle/37fQDdsZGArX3RXGA
There are guidelines for each category. They are the same guidelines as regional club days. Sign up for everything you think you might do so we have enough judges to make the day go quickly. You can always scratch at the door that morning.


I have a basketball game can I do go early or late?
YES! Please make arrangements to do both if possible. We are always willing to work with youth. Order is determined by signing up on the door that morning. If you want to go first be sure to show up at 8:30 and be set up and ready for the judge. If you want to go later in the day, have a 4-H friend sign you in on your room door for a later time slot. If you're not present, the room will skip you and go to the next person but as when you get there you'll still be able to give your presentation! All youth should be present by 10:30 a.m. to keep the day moving.
When are awards announced?
Ribbons will not be handed out until the entire room is done. If you would like to stay until everyone in your room has gone, ribbons will be handed out as soon as we can get them organized. If you would like to leave when you are done, ribbons will be sent with a club leader or mailed to you. You will be contacted by the extension office if you were the winner of your division to see if you want to compete at regionals or offer it to another youth.
How can I help?
Older youth looking for jr. leader/ambassador check marks for achievement pins should consider being a door monitor or helping with ribbons at the end of the morning. Sign up to be a door monitor when you sign up to compete on the google doc. Club leaders or other adults interested in helping please send the extension office an email, krohling@ksu.edu if you are interested in helping or tag the information onto a youth's google sign-up, either way works.
Club Day categories. Start planning with club members and friends now!
Public Speaking/Talks

12 and younger or 13 and older

Extemporaneous
Demonstrations
Video Presentation

One divison for all age groups

Reading (reciting)
Talent

Individual, Groups 2 or more
Group skit
Novelty (talent, gymnastics, etc.)

Music

Instrumental solo, chorus, ensemble
Vocal solo, chorus, ensemble
Guideline document

Extempt rules: 14 & older, draw a topic from a hat, 20 minutes to write a speech. Speech minimum time 3 minutes to count towards camp scholarship and can only use notecard as a guide. 4-H experiences are the topics.
Montgomery County 4-H Fair Information
Fairgrounds are located at Riverside Park in Independence, KS. Google map pinpoint of the main 4-H building can be found HERE
LINK to FAIR WEBSITE- including fair entry video, study materials, fair forms, camping and more!
4-H CAMPS
**All MG Co. youth can receive a scholarship to Cedar Bluff and Greenbush by giving a talk or demonstration at club day.
**Scholarships available from the foundation for youth that wish to attend Discovery Days, Rock Springs, etc.
Discovery 4-H Days- June 7-9 in Manhattan KS for youth 13-18 as of January 1st.
Rock Springs 4-H camp - Registration is open NOW! Early Bird registrations deadline is November 1. Rock Springs camp is for youth ages 8-18. Youth pick their date in June. 4 day or six day camp. (old camp model was the 4 day camp). Prices range and scholarships are available. Camp Q&A
Greenbush 4-H Camp- 24 hour overnight camp at Greenbush by Girard, KS for youth 7-8 yrs old. Stay in A/C cabins, high low ropes course, canoeing, fishing, archery, games, etc. Camp is typically the first week of June!. Estimated cost $75
Camper Packet
Floating on Leadership - Teens 14-18 are invited to join us on a float trip at the river. Day trip. Float date is typically middle of June. We don't go every year unless there is interest. Cost is estimated $40
Cedar Bluff, day camp - Local camp for ages 9-13 scheduled for June 9th. Outdoor games, scavenger hunts, rocket building, coding, swimming, campfire, dance and more. $55 or $10 for those that gave a talk/demo at club days. Adult helpers, teenage counselors and campers register spring of 2023.
Officer Resources
Being elected to an officer role is a great honor and responsibility. This means that your club sees you a leader who will help them move forward. With this honor comes great responsibility. Officers are encouraged to learn about their role and complete the necessary books to be completed at the end of the year. At this link you will find officer training videos, books, and much more. Here is a copy of the score sheets for the following books Secretary, Treasurer, Reporter, and Historian.
WILDCAT 4-H Judging Teams
Interested in judging with any of the teams below? Call the extension office at 620-331-2690 or email krohling@ksu.edu to express your interest and we will put you in contact with the coach.

Meats judging, identifing retail cuts of meat and grading
Livestock judging, judging the market quality and breeding ability
Skill-a-thon, identifing livestock equipment, feed samples, feed rations, etc.
Quiz Bowl, answering livestock questions through a game show format
Photography judging, ranking pictures based on desired features
Horticulture/Crops Judging, identifing plants and written test
Youth for the Quality Care of Animals
Youth will learn about reading feed tags, giving shots, and more! Classes open to all youth as a learning opportunity regardless of where you plan to show!
2023 YQCA Dates Announced end of January for each county. Welcome to attend any session or complete the online version.
Montgomery:
Labette:
Crawford:
Wilson: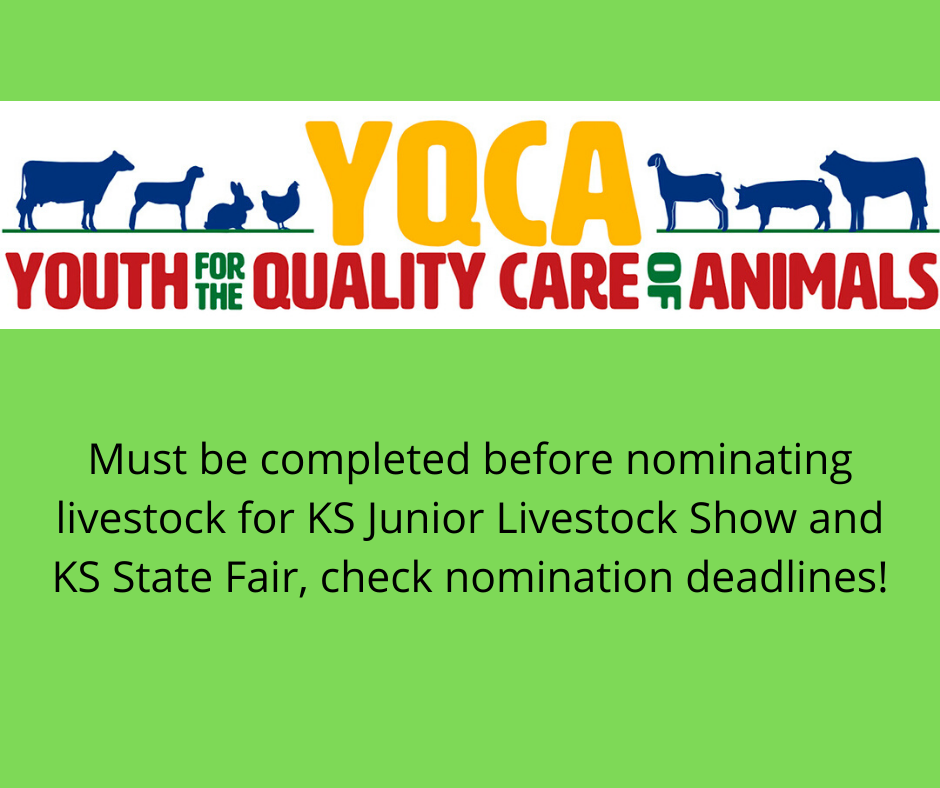 YQCA training is required for youth (ages 7-21) who will be showing livestock at the Kansas State Fair or the Kansas Junior Livestock Show. The YQCA website is,https://yqcaprogram.org/ . Use your 4-H Online user name and password to login. Instructions for signing up for classes and printing completed certificate: click here.
Following the training, please log back in to take a post-course survey and access your certificate!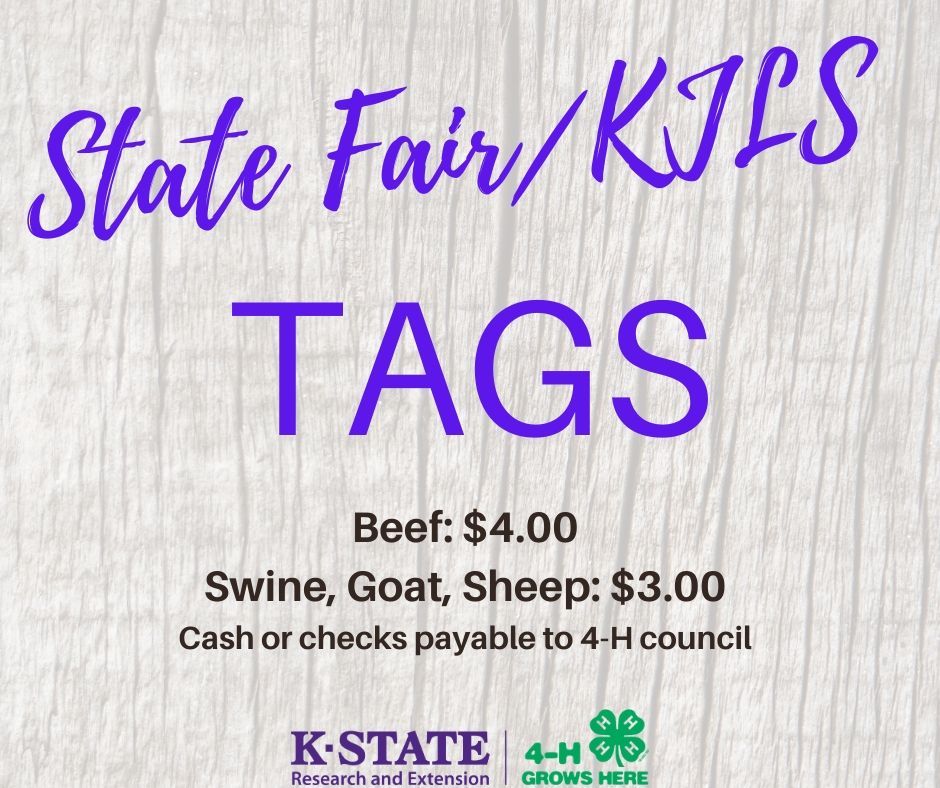 Contact Katie at krohling@ksu.edu or 620-778-4616 to make arrangements to get tags!

Nomination deadlines:
Market Steers and Market Heifers: May 1st
Commercial Heifers: June 15
Registered Breeding heifers: N/A
Market Lambs and Commercial Ewes: June 15
Registered Breeding Ewes: N/A
Market Hogs: June 15
Purebred Breeding Gilts: N/A
Commercial Breeding Gilts: June 15
ALL Meat Goats: June 15
(no registered breeding doe show)

Tagging instructions, checklists, declaration and nomination paperwork will be printed for you and delivered with your tags or you can print it yourself at: https://www.asi.k-state.edu/research-and-extension/youth-programs/nominated-livestock/