Upcoming Dates
For a list for all county and district wide events click HERE.

4-H at your Fingertips
Download the Wildcat District 4-H on the Go App now!
Sunny Hills Camp Counselor Application
The Sunny Hills Camp Counselor Application can be found here.
2020-2021 Enrollment Starts October 1st
Enroll Here: http://v2.4honline.com/
New Adult Volunteer Enrollment Guide
ENROLLMENT DEADLINE!
You must enroll by January 31, 2021, as a returning 4-H family member.

New families may enroll until May 1, 2021. If you have new members joining your club encourage them to get signed up early so they don't miss the deadline. See link below to enroll.
Crawford County 4-H Club Days
Club Days will be February 6 at Girard Catholic Hall Cafeteria at 9am. The deadline to sign up is January 31. (Remember you can receive a camp scholarship!)
This will be closed to the public. Meaning parents/guardians only. No extended family (ex. Grandparents, Aunts/Uncles, Friends,…)
You must remain 6 feet apart from those not in your immediate family.
Once you have completed your events you must leave. There will be no waiting for results they will be sent out.
Only 4-H member and parents will be allowed in rooms for individual events. No other 4-H members or families are allowed in the room.
MASK MUST BE WORN AT ALL TIMES. A 4-H member giving an individual presentation may remove mask while giving presentation.
Plan for changing to virtual format if needed:
All individual Talks, Demos, Public Speaking, Musical, Vocal, and Skits will be done via zoom at the time that you signed up originally on January 31. A zoom link will be sent to those signed up.
Group categories please be recording your practices. If we have to change to virtual format you will submit a recording of your performance, model meeting, or skit on January 31 to be judged. You will want to record your practices in order to submit your best one to be judged.
Scholarships
Crawford County 4-H Scholarship
2020-2021 State 4-H Scholarship Applications
Youth who should be applying for this scholarship should be in their Senior year in High School OR OLDER (we have many scholarships that are available to youth who are Freshman-Senior in Post-Secondary Education and some that are available to Vet Med Students).
Camp Scholarships
Camp scholarships are available through 4-H Council thanks to the generous donations in the community.
These are limited to one per-youth per-year. To be eligible you must complete a talk or demonstration at County 4-H Club Days or participate in Favorite Foods Contest. The scholarship will be refunded up to $100 upon the
youths return from camp. This is a great way for youth to experience more youth development opportunities!
Please call Will if you have any questions.

Crawford County 4-H Camp Scholarship opportunity! Form Here
Are you a Crawford County 4-H member and would love to attend a 4-H Camp/State 4-H Activity? Then we have an opportunity for you to help pay for that experience. You can get can get a scholarship for $100. You must complete a minimum of 2 hours of community service at the Crawford County fairgrounds as well as a minimum of 2 hours of community service in the community that you live in. Service completed at the fairgrounds must be signed off by Will. Hours completed in the community must be signed off by a non-family member (4-H volunteer events count), and you must have submitted a record book from the previous year. Hours and the completed application must be completed and turned in by May 1st. Service hours must be completed between May 1 of current year and prior to the deadline of the next year. Camp/activity registrations and fees must be paid in full. Scholarship will be awarded upon youths return from camp/activity. Application can be found on our website. This scholarship is make possible by Carolyn Zagonel and the Americas Farmers Grow Communities Donation from Bayer Fund.
Online meeting tips for 4-H Clubs
Any interested in holding a club, project, volunteer, or other 4-H meeting during the quarantine period are encouraged to do so online. We recommend Zoom and tips for setting up a zoom meeting safely are included in this tip sheet. A basic zoom account has a 40 minute time limit 4-H agents can help you A. use a school email from someone in your club to bypass the time limit or B. set up the meeting with our K-State emails to bypass the time limit. Let us know how we can help you!
Zoom bypassing the 40-minute time limit FAQ: https://support.zoom.us/hc/en-us/articles/360041264451-K-12-School-Time-Limit-Removal-Request-FAQ
Instructions for creating a virtual zoom background and uploading to zoom
Clover virtual zoom background ready to use
Youth for the Quality Care of Animals
Youth will learn about reading feed tags, giving shots, and more! Classes open to all youth as a learning opportunity regardless of where you plan to show!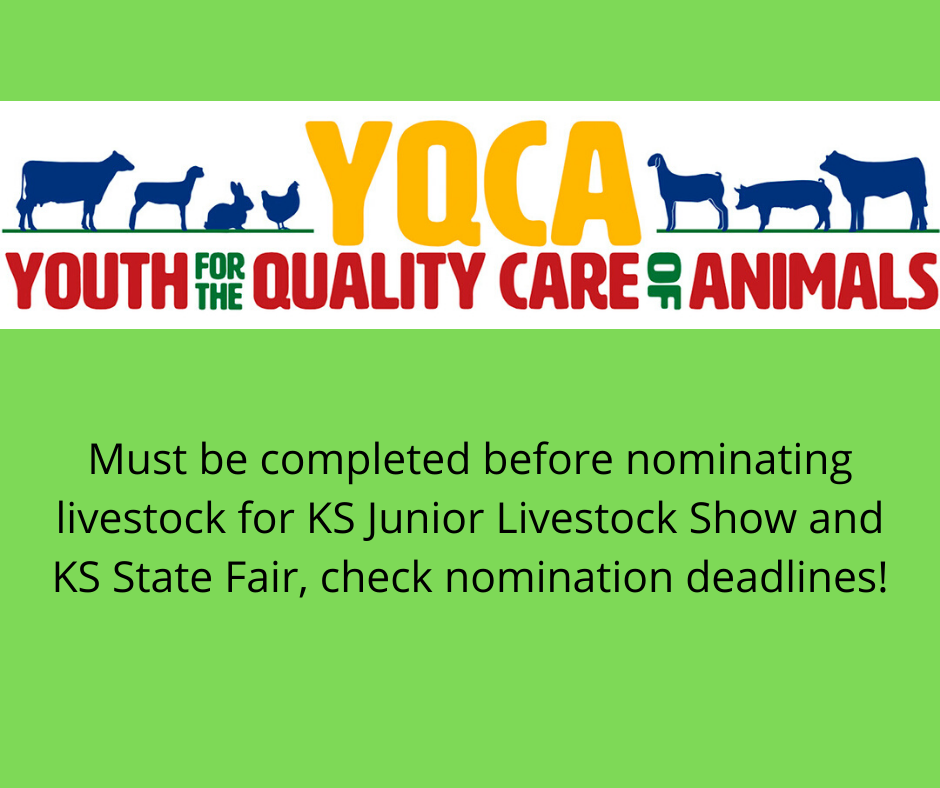 YQCA training is required for youth (ages 8-21) who will be showing livestock at the Kansas State Fair or the Kansas Junior Livestock Show (one exception is horses. Horse members are required to do the Coggins test and horsemanship tests). In-person classes have been cancelled and you can login to YQCA to get a refund for in person classes. Youth will need to sign up for an online class. Online classes are typically $12 but will be discounted to $9 for April only. To recieve the discount you must apply for a coupon. Contact your extension agent to be put on their list for fill out the form below yourself and mail it in. The YQCA website is, https://yqca.learngrow.io. Use your 4-H Online user name and password to login. Classes are specifically for youth 8-21 years old but in 2020, seven year olds may take the class as a learning opportunity. In 2021, the class ages will change from 8-21 to 7-21, as seven year olds competing in the Kansas Junior Livestock show be required to take the class.
Discount coupon options:
1. Contact local agent to be put on their list (check must be dropped off with agent)
2. Fill out the form HERE and mail it in with check for coupon.
Instructions for signing up for classes and printing completed certificate: click here.
Record Books
Find your record book forms (HERE)
Membership Pins
Find all pin applications (HERE)
4-H Fee Information
Informational Packet from State 4-H Office