Calendar of Upcoming Events
What is 4-H?
4-H is one of the world's largest youth organizations.
4-H is an out-of-school, volunteer led, educational program.
4-H is an informal educational program for all boys and girls 7 to 18 years of age.
4-H is learning by doing.
4-H is kids having fun and learning with their friends.
Wilson County 4-H Facts
There are currently 4 Active 4-H Community Clubs
Busy Beavers 4-H Club
High Prairie Pioneers 4-H Club
Homebuilders 4-H Club
Lucky Horseshoe 4-H Club
A typical Wilson County 4-H year consists of: Officer's Training, County Club Day, Judging Contests, County Camp, Favorite Food Show, Clothing Judging/Style Revue, County Fair and the Achievement Banquet. Many other activities are available at the area, state and national levels during the year as well.
4-H at your Fingertips
Download the Wildcat District 4-H on the Go App now!

Youth for the Quality Care of Animals
Youth will learn about reading feed tags, giving shots, and more! Classes open to all youth as a learning opportunity regardless of where you plan to show!
YQCA Dates:
Montgomery April 25 at 6:45 pm Extension office
Labette April 21st at 6:45 p.m. Altamont City Park
Crawford April 12 6:30 Extension office
Wilson April 6 6:30 Extension office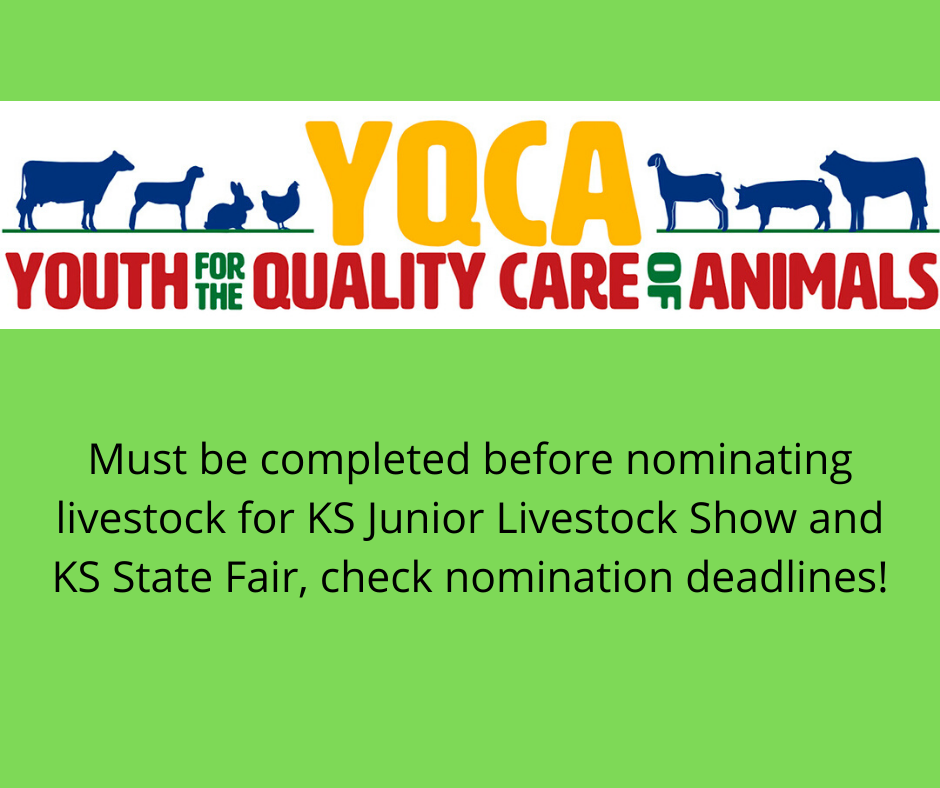 YQCA training is required for youth (ages 7-21) who will be showing livestock at the Kansas State Fair or the Kansas Junior Livestock Show. The YQCA website is,https://yqcaprogram.org/ . Instructions for signing up for classes and printing completed certificate: click here.
Following the training, please log back in to take a post-course survey and access your certificate!
Officer Resources
Being elected to an officer role is a great honor and responsibility. This means that your club sees you a leader who will help them move forward. With this honor comes great responsibility. Officers are encouraged to learn about their role and complete the necessary books to be completed at the end of the year. At this link you will find officer training videos, books, and much more. Here is a copy of the score sheets for the following books Secretary, Treasurer, Reporter, and Historian.
Regional Club Days Information
Regional Club Days information and Guidlines can be found HERE
Favorite Foods Contest
District wide Favorite Foods Show will be June 13th at the Old Iron Club in Fredonia. Contest begins at 4:00pm. Here you can find the Information Sheet, Score Card and Registration forms.
State Geology Trip
Kansas Geology team has planned some great touring opportunities for geology project participants, Click Here for information and registration.