Home & Community Media

Just Do It: for Building an Emergency Savings Plan Article Audio
An emergency savings fund is essential to avoiding unplanned debt and a downward financial spiral. For many Americans, however, it is difficult to stay afloat financially from one payday to the next. Research shows that twenty-eight percent of Americans do not have an emergency savings fund.
Julie Smith, Family Resource Management and Entrepreneurship Agent
September 17,2020
---

Planning for Life: Advance Directives Article Audio
One thing we can count on is life changing all the time. In this season of uncertainty and new information/guidelines, this may be the push many of us need to ensure our end of life wishes are met. This is never a fun topic to talk about, however, providing some clarity for your family can be a great gift to them when an illness or injury does occur.
Tara Solomon-Smith, Adult Development and Aging Agent
August 31,2020
---
Christmas Spending: Planning Ahead Matters Article Audio
As of September 1st, there are sixteen weekends until Christmas. Sixteen Saturdays to do all of your holiday shopping, gift wrapping, baking and more. While it might seem fairly distant, it won't be long before our communities are adorned with holiday cheer and Christmas carols fill the airwaves. Your checkbook may still be recovering from back to school shopping, but it's not too early to start planning for Christmas.
Julie Smith, Family Resource Management and Entrepreneurship Agent
August 18,2020
---
Keep Your Mind Active To Better Handle Stress Article Audio

Keeping your mind active and engaged can actually help us handle stress better! This is the case for people of all ages, but becomes more important for older adults.
Tara Solomon-Smith, Adult Development and Aging Agent
August 6,2020
---
COVID-19 has caused uncertainty in our lives now for months and it continues with back to school shopping season. What will school look like this fall? What should we buy and when should we buy?
Julie Smith, Family Resource Management and Entrepreneurship Agent
---
I would like you to take a moment and think of all the people you know (or have heard about) with Alzheimer's disease. Most of us can name at least one, if not many more. Sadly, more than five million Americans are currently living with Alzheimer's, and that number is expected to rise as high as 16 million by the year 2050.
Tara Solomon-Smith, Adult Development and Aging Agent
---
Counting Change - The Old Fashioned Way Article Audio
I often hear from my peers that "kids these days" do not put emphasis on learning valuable life skills such as balancing a checkbook, living within a budget, or even counting back change. As I self-evaluate my own efforts to teach my teenage daughter these skills, I'm reminded that there is much room for improvement.
Julie Smith, Family Resource Management and Entrepreneurship Agent
---
Tools to Thrive Article Audio
Stress can take a toll on the body's physical and mental well-being with potentially disastrous results. Our friends in the agricultural community may be feeling it especially high right now. Just as farms and businesses need to be operated in a sustainable way that preserves resources for the long term, an individual's life needs to be managed in a sustainable way for long-term well-being.
Tara Solomon-Smith, Adult Development and Aging Agent
---
Check Your Credit – Free Reports Weekly Article Audio
Did you know that checking your credit history can help you better understand your credit position? By consistently monitoring your credit, you may be able to detect any inaccurate or incomplete information that will affect your ability to shop using credit.
Julie Smith, Family Resource Management and Entrepreneurship Agent
---
Make Your Mark with Older Americans Month Article Audio
Around the nation, older adults make their marks every day as volunteers, employees, employers, parents, grandparents, mentors, and advocates. They offer their time, talents, and experience to the benefit of our communities.
Tara Solomon-Smith, Adult Development and Aging Agent
---
Income Drop? Take Stock and Set Priorities Article Audio
The COVID-19 situation has affected many families in our district financially. From layoffs and closures to limited schedules, farm markets and more. Financial strain is a real issue for our friends and neighbors as they struggle to pay their bills and feed their families.
Julie Smith, Family Resource Management and Entrepreneurship Agent
---
Childcare Solutions during Quarantine Article Audio
I know I am not alone in juggling a few kids, work, and pets while all together at home. The thought that I am not the only one experiencing these adjustments is encouraging! Thanks to a team of colleagues from K-State Research and Extension, a new program is being launched to assist older children in helping to care for siblings and additional resources for all families.
Tara Solomon-Smith, Adult Development and Aging Agent
---
Secrets to Success: It's Time to Think Differently Article Audio
This world is always evolving. Technology, healthcare, education – you name it. The world looks much different than it looked 100 or even 50 years ago. Our nation has, for years, been adapting to change. Today, however, we find ourselves in chaos and crisis as we are forced to change virtually everything about our everyday lives in just a few short days.
Julie Smith, Family Resource Management and Entrepreneurship Agent
---
Working Remotely Amid Multiple Life Shifts Article Audio
Most of us have experienced several life shifts within just a few short days! I set up my current remote office late yesterday afternoon. When I say 'set up', I mean dusted off the desk that is in the corner of our living room!
Tara Solomon-Smith, Adult Development and Aging Agent
---
Random Acts of Kindness Article Audio
My sisters and I have had a few road trips over the years and we have another one coming up next month. This has me reminiscing about past trips where we decided to do small random acts of kindness. On these adventures, we would pay the toll for the car behind us and a meal for someone in the restaurant we stopped at.
Tara Solomon-Smith, Adult Development and Aging Agent
---
Staying Independent- My Mobility Plan Article Audio
Many people make financial plans for retirement, but not everyone plans for the mobility changes that may come with age. One in four Americans now 65 years old will live into their 90s. It makes good sense to plan for what's ahead!
Tara Solomon-Smith, Adult Development and Aging Agent
---
Slouching…. So Wrong, But It Feels So Right Article Audio
Fifty percent of people in the industrialized world suffer from some form of back pain and many are related to poor seat design and posture.

Tara Solomon-Smith, Adult Development and Aging Agent
---
January is Radon Action Month Article Audio
Because of its odorless, tasteless and colorless ways, radon can be a silent killer and unfortunately, it's fairly prevalent in Kansas soils. The radioactive gas that occurs naturally in some soils is the No. 1 cause of lung cancer in non-smokers. It claims the lives of about 21,000 Americans every year, according to the EPA. But there are ways to test for it and mitigate it.
Tara Solomon-Smith, Adult Development and Aging Agent
---
Make a Map for Your Wellness this Season Article Audio
The end of another year and the beginning of the new often goes by in a blur because of all we have to do in this season. I am the queen of to-lists and get quite a bit of satisfaction out of crossing items off. This can help in busy times, however, I heard some insights from K-State Research and Extension's Behavioral Health Specialist, Brad Dirks, which reminded me to add self-care to the routine.
Tara Solomon-Smith, Adult Development and Aging Agent
---
Caregiving and the Holiday Season Article Audio
As the U.S. population ages, more older adults are likely to be diagnosed with a cognitive impairment. Holidays are stressful for everyone and spending holiday time with someone who experiences memory issues may pose concerns.
---
Emotional Wellness and Anxiety Article Audio
Emotional wellness is just as important as your physical wellness. One aspect is anxiety. While anxiety doesn't typically feel very good, it is a very common, human and normal reaction to stress.
---
The Power of Sleep Article Audio
I spent a very restless night this week and thought I probably wasn't the only one. We all have trouble sleeping from time to time, but when insomnia persists day after day, it can become a real problem. Beyond making one tired and moody, a lack of sleep can have serious effects on our health, increasing our propensity for obesity, heart disease, and type 2 diabetes.
---
New Scam Targeting Seniors Article Audio
Everyone is vulnerable to scams in one way or another. Hopefully you have heard about the newest and largest healthcare fraud schemes in US history targeting Medicare beneficiaries. I am speaking of the genetic testing scheme where individuals were recently charged for collecting and selling patient information and corruptly prescribing these tests. So why seniors?
---
National Suicide Prevention Month: Something to Talk About Article Audio
What seems to transcend age, gender, socio-economic, and educational levels? Suicide, and there is no other time but now to talk about it!
---

Don't Forget About Medicare Part D Open Enrollment Article Audio
Fall is quickly approaching and I am looking forward to all that comes with it! Including Medicare Part D (prescription drug plan) Open Enrollment. This is your opportunity to make sure you are getting the most out of your prescription drug plan. Here are some common questions to help you understand your options.
---

Some Traveling Tips for Your Sanity Article Audio
I see several friends heading on vacation during this time right before schools starts. I am a bit sad we took ours earlier in the summer! The last two years, my family and I have been able to travel with our extended family to new destinations. These trips hold great memories of cousins playing and adults visiting around games!
---

Decisions About Your Doctor Article Audio
We will all need to see a doctor at some point, most likely more than once in a year, no matter how healthy you are. Your primary care doctor is your first point of contact and often the 'team leader' in times of illness. I know it can be challenging in a rural area and with many community changes.
---

Stay Cool with these tips to Lower Cooling Cost Article
As summer starts to heat up and temperatures rise, many of us are cranking up the air conditioners to stay cool. It should come as no surprise then that air conditioners use about five percent of all the electricity produced in the U.S., costing homeowners more than $29 billion a year in energy costs.
---
Top 10 Facts about Mold Article
Molds are part of the natural environment, and can be found everywhere, indoors and outdoors. Mold is not usually a problem, unless it begins growing indoors. The best way to control mold growth is to control moisture. Molds can have a big impact on indoor air quality. Read on to learn the top 10 things you should know about mold.
---
Money Matters Newsletter
In this quarterly edition you can find tips for a Better Boxed Meal Article
---
Budgeting for Vacation Article
Summer brings visions of vacationing for some. However, our finances might be throwing a kink into those thoughts. Sometimes, we just don't know where to start to either plan or save for a vacation.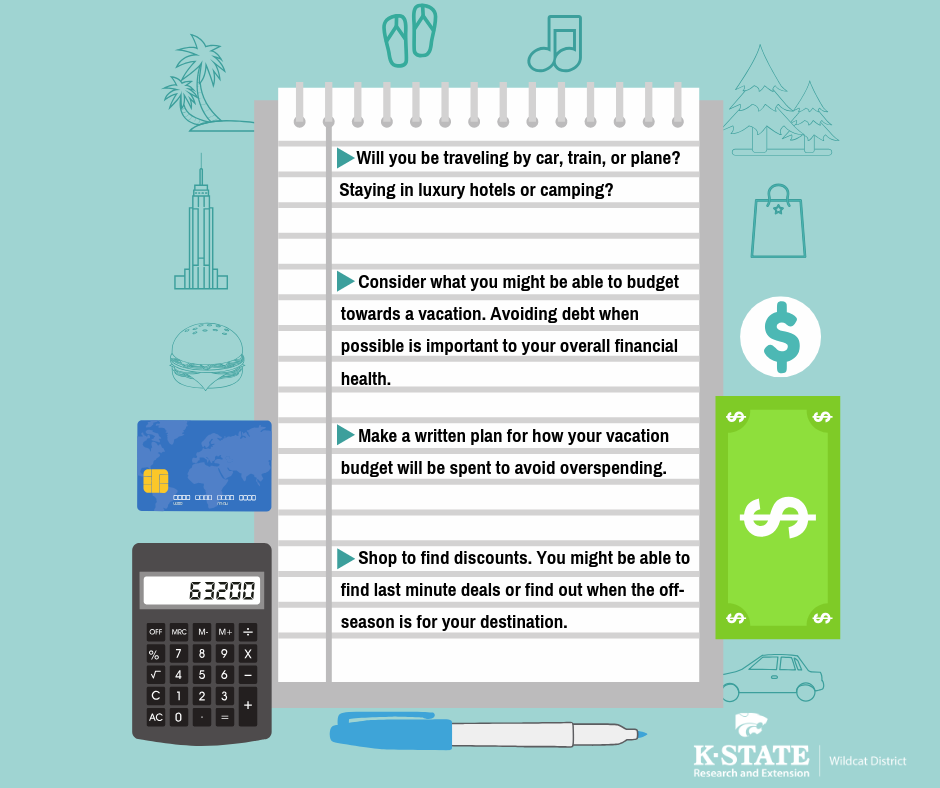 ---
How to Build Credit Article
The most important way to build good credit is to consistently pay bills on time. One late payment can decrease a person's score by 40 points. A good rule to follow is to keep balances low (less than half of the total credit line), pay off debt rather than move it between cards, limit the number of credit accounts, and build savings.
---
Keep Kids Safe this Summer Article
Summertime is quickly approaching. Many kids will enjoy both indoor and outdoor activities and keeping them safe and healthy is the number one priority of summer fun. There are five key areas to touch on, water safety, beat the heat, keep the bugs away, prevent injuries and stop the violence.
---
Prepare Yourself for Severe Weather Article
Would you be prepared to take action if your property was hit by a tornado, overcome by a flood or destroyed by a fire? Many people have installed smoke detectors, fire alarms, and dead bolt locks in their homes and stocked extra food in the pantry but there is more to preparing. To be prepared, you should also have a household inventory, check your insurance coverage, and prepare a grab-and-go box. Read on to learn more.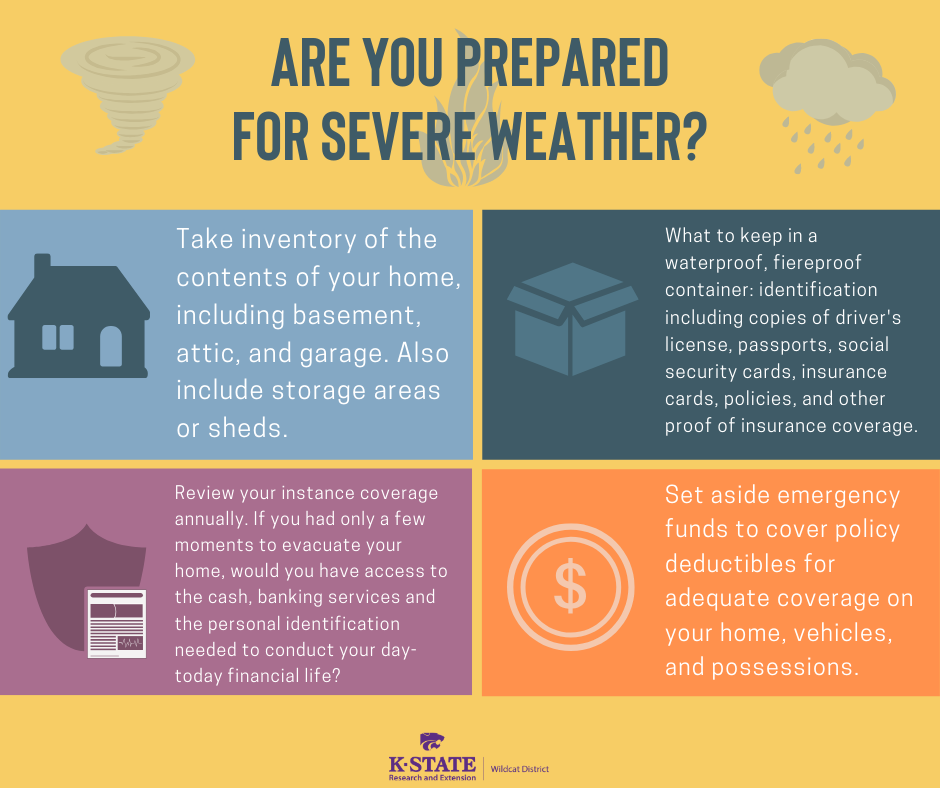 ---
Smart Uses for Your Tax Refund Article
Get the most out of your tax refund by developing a plan. Make a commitment to enjoy part of the money. Be smart, and use the rest for practical purposes.

If you are just getting ready to do your taxes and are looking for a smart way to use your refund, check out this video.
---
Saving ,Spending Tips Help Young Adults Manage Money Article
With many costs rising, teens and young adults find it more difficult to cover the cost of dinner and a movie. Check out this video for tips on money management....
---
America Saves Week- Join Now and Save Article
Many Americans are one unplanned expense away from wishing they had a savings account. A savings account should hold three to six months of income to help feel secure when an unexpected financial cost arises.
---
Making the Most of Your Tax Return Article
Palms get itchy this time of year with folks anticipating their tax refund. All too quickly the refund is here and gone again, spent as quickly as it came. It is important to remember that a tax refund is not "free money," rather it is the return of earned income.
---
January is National Radon Action Month Article
"One in four homes in Kansas will test at or above the EPA's radon action level," said Bruce Snead, director of the Kansas Radon Program at Kansas State University. He referred to the Environmental Protection Agency's radon action level of 4.0 picocuries of radon per liter of indoor air.
---
Tips for a Strong Financial New Year Text
The holidays give you the chance to spend time with loved ones and friends, catch up on your favorite TV shows and make resolutions for the New Year. While it can be overwhelming thinking about what you'll do differently next year, focusing on your financial future is a great place to start. For a strong financial new year try these six tips:
Keep Hackers from Ruining your Holidays Text
Kansans will soon take to the Internet for a variety of cheerful holiday reasons. The increase in cyber traffic means, however, that home computer networks and smart devices will be more vulnerable to malicious scamming and hacking by persons' intent on dampening your holiday spirit.
---
Shop Online Safely Text
As you scroll online another ad pops up, peaks your interest and before you know it you are buying online, again! Once a shopper sees how easily it is to purchase online they tend to be hooked! It is convenient, quick and you don't have to fight the crowds!
---
Money Matters Wildcat Extension District- Keeping Holiday Debt Under Control
---
Beat the Holiday Financial Blues Article
It is hard to look forward to a holiday, if you are worrying about how to pay for it. Have you stressed about how to provide a fun experience for children without breaking the bank?
---
Money Matters Wildcat Extension District -Financial Tips You Can Use

---
Prepare Kansas, Are You Ready? Article

Sometimes, life in the heartland is not for the faint of heart. At least that's the way it seems when homes and communities experience tornadoes, flooding, drought and other disasters like Kansas communities can.
---
Back to School- Off to a Smooth Start Article
Summer is winding down and it's time to think about school again. Listen to these four tips to make it a great start to a successful school year.
---
Stay Cool with these tips to Lower Cooling Cost Article
As summer starts to heat up and temperatures rise, many of us are cranking up the air conditioners to stay cool.
---
Save Money When Money is Tight Article
The idea of saving money can be an intimidating concept for some. Having money saved and available can provide security in the event of an emergency and even reduce stress in everyday life. However, studies have shown that one out of three Americans do not have sufficient savings to cover unexpected expenses.
---
Planning an Inexpensive Vacation Article
A family vacation is an annual tradition for many families but for those on a tight budget, it may be an unnecessary expense. Like any big purchase, a vacation requires planning.
---
Are You Prepared? Article
Tornado season is here and can strike at any time. Are you prepared? To be prepared, you should have a household inventory, check your insurance coverage and prepare a grab and go box.
---
Tips Help Young Adults Manage Money Article
With many costs rising, older teens and young adults who learn and practice money management and saving strategies now rather than later in life may be better able to meet their future financial needs.
---
Cut the Clutter and get Organized! Article
American consumers have a desire for purchasing a great deal of "stuff," which has led to clutter-filled homes. In addition, families have less time to keep everything organized.


What to keep? What to throw out? Article
One of life's most important lessons is distinguishing what is trivial from what is not. While we're tempted to lump our personal documents among life's petty details, their significance can be major.
How Will You Make Your Tax Refund Work For You? Article

Tax season is here. How are you planning to use your tax return? Using your tax refund to pay off a bill is a great financial decision to start off your new year.
Paying Off Holiday Debt Article
The joy of the holiday season is now behind us. Soon, coming to your mailbox will be the bills for all of the gifts, food and traveling expenses that built up over the last few months. Do you have a pay-off plan?

Radon Article

You can't see, smell, or taste radon, but it could be present at a dangerous level in your home. Radon is the second leading cause of lung cancer deaths among nonsmokers in America and claims the lives of about 20,000 Americans each year. In fact, the EPA and the U.S. Surgeon General urge all Americans to protect their health by testing their homes, schools, and other buildings for radon. Click the link for further information.